Phone
Sony Xperia 10 Full Review: Stunning Cinematic Oresentation, Mediocre Performance
This year's MWC has seen a lot of attention focused on Sony's new ultra-wide flagship, the Xperia 1.
Nevertheless, you don't have to spend a fortune to watch movies in that 21:9 aspect ratio when you're on the road. The Xperia 10's 6in display is enough to make it stand out like the lanky kid at school in the crowded mid-range category, even though it lacks its big brother's world-first 4K HDR OLED.
Design: Lean forward
We were a little concerned that the new smartphone lineup from Sony might resemble TV remotes in the hand when it was first introduced. Luckily, that's not the case at all, and the Xperia 10 is a pleasant device to hold despite having a long and compact profile.
A large black bezel on top is starting to appear dated in the brave new world of smartphone design, but you aren't really left longing for more screen space.
The metal back and slightly protruding camera module are far from quality, as you would expect from a phone at this price, but that doesn't mean the Xperia 10 feels cheap. We won't be critical of Sony for creating a cheap phone with character.
The device's right edge has a fingerprint sensor integrated in, which we will thoroughly test in the comprehensive review. Even though we've been spoiled by the in-display readers constantly showing up in new phones, it's still logically placed.
Although Sony indicated that the Xperia 10 will also be offered in navy, silver, and pink, we only saw the black variant.
Wide and slick display
It seems as though Sony is doing everything it can to make the displays on its flagship phones the finest in the industry.
Predictably, the FHD+ LCD display on the Xperia 10 is far less impressive, but it appeared to be bright enough, and the colors looked to explode, albeit not quite as dramatically as they do on an OLED.
The 6in 21:9 showcase truly shines in landscape mode, where the majority of 21:9-shot movies will automatically revert to their original aspect ratio, covering the entire screen and removing the black bars you see when viewing 16:9.
Even if we don't really need a reason to see Spiderman: Into the Spider-Verse for a fourth time, it will surely look amazing on an ultra-wide screen.
Software: Use some common sense.
A tall screen's apparent drawback is that it can be difficult for most people to use with one hand, and plain impossible for Donald Trump.
Sony has introduced the Side sense technology from the XZ3 from last year onto its new mid-ranger to make things simpler. It's a feature of Sony's Android 9 skin that can be accessed by double touching the screen's edge. Doing so will display a list of your most frequently used applications for quick access without the need for finger acrobatics.
Although I've always thought Side sense could be a little more responsive, having it here makes a lot of sense.
Because of the tall display, you can split apps into two windows for better multitasking. You may do this by long-pressing the app icons or by utilizing Side sense. The most straightforward combination is to have a video playing at the top of the screen while using the bottom half of the screen to explore the internet. This doesn't feel like you're cramming programs together needlessly thanks to the 21:9 display.
Double danger with cameras
The dual 13MP and 5MP camera configuration on the Xperia 10 allows you to add bokeh to your portrait photos with the latter. On the front, there is an 8MP sensor as well. The few pictures we shot were decent, but at that price, this phone shouldn't be known for its photographic skills.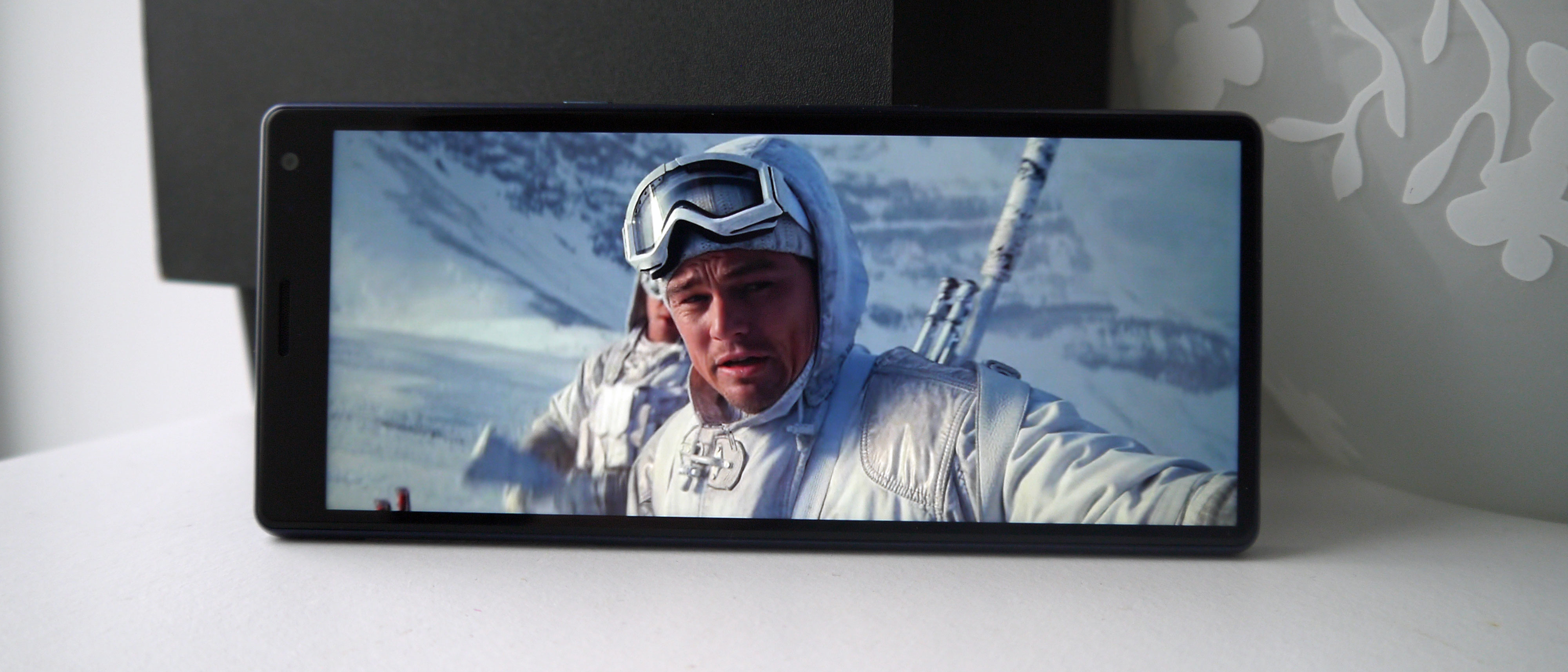 We quickly tried the phone's 21:9 video and still photography capabilities, once more utilizing the whole screen. Any megapixel-based disappointment may be offset by the knowledge that you are photographing your dog in the same aspect ratio as Steven Spielberg utilizes in his films.
The phone has a 4K recording capability as well.
So-so battery life and performance
The Xperia 10 is a mid-range phone that turns heads, but it is still in that price bracket.
You get a now two-year-old Snapdragon 630 chipset, which will handle daily use and a little of light gaming just fine, but you'll undoubtedly feel the loss in zippiness if you're used to costlier flagships.
Also, don't anticipate getting much use out of the 2,870mAh battery beyond dawn to night.
The phone comes with 64GB of storage that can be expanded with a microSD card and 3GB of RAM.
First assessment of the Sony Xperia 10
The Sony Xperia 10's sales pitch is straightforward: enjoy the appearance of that 21:9 screen but need it on a budget? You might want this phone. However, there is the much taller Xperia 10 Plus to take into account, which receives a modest spec bump due to its larger dimensions.
It's rather nice to see Sony completely disregard the pack and concentrate on creating the relaunched Xperia range movie machines you can make phone calls with at a time when everyone is raving about foldables and hole punch cuts.