Phone
Review Samsung Galaxy A13: Form A to Z
Don't want to spend a lot of money to buy a phone? But you want a phone with good looks, good photos and a good battery? Then the Samsung Galaxy A13 is a great choice. This is a new product launched by Samsung at the end of March 2022. It brings great features on a cheap phone, but what exactly are those features, let's review in detail in this article to better understand the Samsung Galaxy A13 phone.
Specifications
Detailed review of Samsung Galaxy A13 phone
Design
The design style of this smartphone is also a bit Samsung's. In particular, it is not like the brothers in the same segment, but it seems to be similar to the S22 ultra with a submerged camera cluster. The product is finished in glossy plastic with youthful and elegant colors.
The feeling of holding is light, but a bit sticky because the back is glossy and clings to fingerprints a lot. Available in 4 color versions including Black, White, Peach, Blue
Front
Taking up most of the front panel space is a large LCD screen. The general characteristic of low-cost phones, it has quite thick bezels, the top is a waterdrop notch and the bottom is a thicker chin. The loudspeaker array at the top edge of the screen provides decent sound for your voice calls.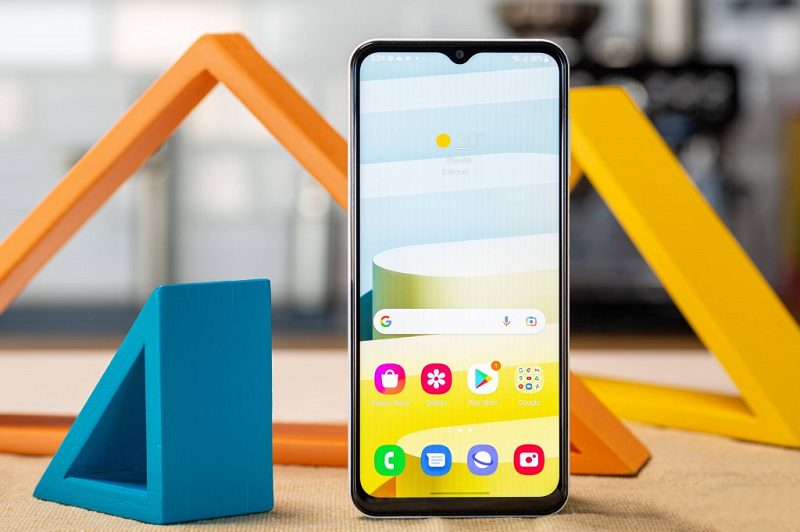 Backside
The back is finished with glossy plastic. The first friend also looks beautiful, also luxurious, but when it comes to fingerprints and other types of dirt, it takes a lot of time to clean. It's best to just make the case and use it, then when you want to change the wind, open it and clean it to make it beautiful.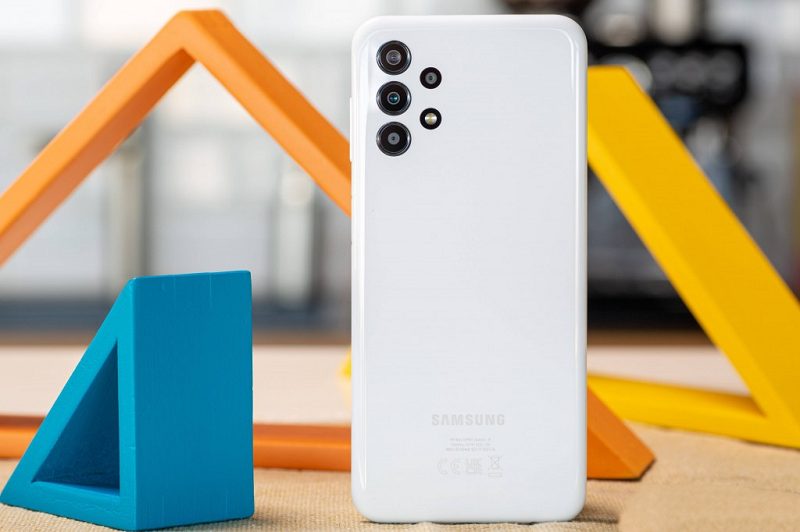 The quad cameras are completely submerged under the back and it doesn't protrude at all, so there's no need for camera protection glass anymore. Placing the phone on the table did not cause any interference at all. This is a great thing you only find on a few Samsung products and especially this year's latest S22 Ultra.
The remaining edges
The chassis is also made of plastic like the back and is also glossy. The connection ports and control keys are fully available in this chassis.
The left side is where the sim tray is. This tray contains 2 sim card slots and 1 memory card slot
The right side is the power button containing the fingerprint sensor and the volume bar right next to it
The top edge also has nothing but the auxiliary microphone to help filter out noise
The bottom edge is the USB-C charging slot, external speaker, main microphone and 3.5mm audio jack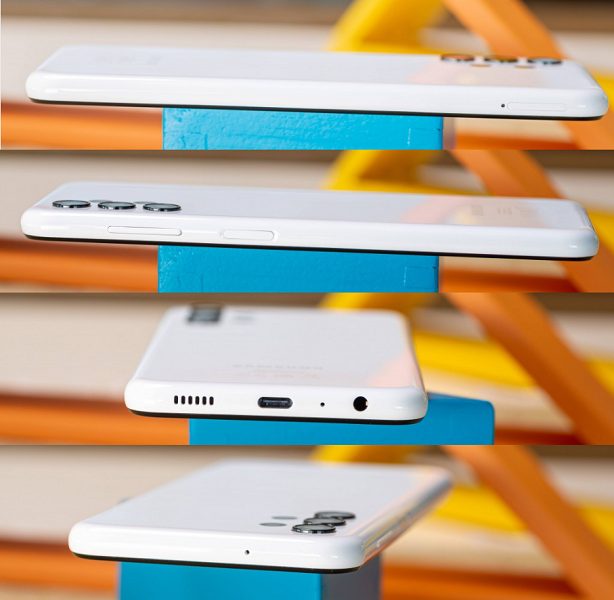 Screen
The screen of this Galaxy A13 is also not very impressive. It is a large 6.6-inch screen, Full HD resolution (1080 x 2408 pixels), 400 ppi density. Although it is an LCD screen, its brightness is quite respectable. Measured screen brightness in automatic mode reaches 587 nits, not so great, but this price range is great.
Although this screen displays quite well, its touch response only stops at the most basic 60Hz. So the response rate is very low, even if you are fast and fast, the machine responds slowly, you know what to do. Using this machine you need to have patience to not be mistakenly touched.
Software
This Galaxy A13 ships with Android 12 and One UI 4.1. But this One UI 4.1 is just a shortened Core version for cheap phones. Samsung cut out some apps, some features make the phone run smoother. But this hardly helps much, it still has too much software running in the background and lags the machine even when you browse the menu
Samsung's Music Sharing and Smart View feature are also present in this version. It also doesn't support always-on display
Performance
The Samsung Galaxy A13 runs the same Exynos 850 (8nm) processor found on the Galaxy A21s brothers. However, in terms of actual performance, it is not so good. This phone lags far behind its brethren in raw performance and graphics performance is equally weak. In general, with this chipset, do not think that gaming is the best.
CPU Performance
Judging a bit through GeekBench 5 benchmark comparison you will see the difference between 2 phones sharing the same chip. The multi-core score of the Galaxy A13 is even half that of the Galaxy A21s even though they run on the same chipset. Looking at a bit of single core, you will see that the Galaxy A21s is still a bit better.
GPU Performance
GPU performance is really not as good as it should be. It is always at the bottom of my comparison list, so you don't have to hope much for it. Even running Aztek failed to execute and crashed several times due to lack of resources. This score is really too low when compared to the A21s, it's hard to believe.
Overall performance
Although evaluating the CPU and GPU scores, the Galaxy A13 was inferior to the Galaxy A21s brothers, but in the Antutu 8 review, the overall performance surpassed. In general, this phone does not have much hope for performance but used with other features is ok compared to the price range.
Camera
Although it is a cheap phone, it offers quite good 4 cameras on the back.
The main camera is 50MP with the so-called Tetracell by Samsung. No for better image quality for the price range, but it doesn't have OIS like the Galaxy A23 launched at the same time
The ultra-wide camera is only 5MP, you will have an ultra-wide viewing angle of up to 123 degrees for more frames
A 2MP macro camera
A 2MP depth sensor provides information for portrait photography
8MP selfie camera without autofocus
Main camera
The default 50MP main camera produces good quality 12.5MP images at this low price range. The generated images have a lot of detail processed, but are a bit soft in the lower left corner of the image. True color reproduction and very good usability.
However, there is one point that I do not like very much about the main cam that is the ability to focus is not very sensitive. Although it's also automatic, there are times when you need to tap to focus or take multiple shots in the same frame to hope for one to focus in time.
You can also shoot at 50MP native resolution. It will provide more details in the frame and other features will be similar to the default image. In return, you will have a super-sized photo to store. Although there is no telephoto lens, the phone can still capture digital zoom up to 10x. It's really surprising that the zoom up to 10x is still usable.
Taking pictures in low light from the main camera is quite good. It maintains good detail, exposure is ok but no edge blur, noise is also kept to a minimum. Unfortunately no night mode is used here at all. Furthermore, autofocus performance is also not very stable in low light conditions. So you need more time to aim and focus.
Portrait
You can take portraits from the main camera with the help of a 2MP depth sensor. You will get an 8MP photo, not 12.5MP like the main camera, which is a bit strange. Although the picture quality is not perfect, it is very good for the price range. If it's ruffles or complicated background images, mistakenly deleting is easy to see. However, the subject is still well made, the background is naturally blurred and can be optional. For example, the image of the cat below was mistakenly deleted in the ear, which is easy to recognize but overall it's not bad
Wide-angle camera
The 5MP Ultrawide camera also doesn't expect much in terms of detail and dynamic range. But the other parameters are fine. The sharpness is equal, the noise is well handled, the colors can be seen a bit better than the main camera.
Because there is no support of night mode, this phone shoots super wide at night very difficult. The photos are barely usable with low exposure, grainy and lack of sharpness.
Camera Macro
You have a camera for close-ups but it's not too good. The resolution is only 2MP, so it is quite limited in quality and detail. It also has a fixed focus so it takes a long time to focus (no autofocus). If you have focus and enough light, you should also have some good photos to post on social networks.
Front camera
You can take good Selfie photos from this Samsung Galaxy A13. Although it is only 8MP, it has good details, the colors are quite realistic, although it is a bit faded like the main camera. It doesn't have autofocus, but you can quickly and efficiently focus on your own.
You can also take Portrait Selfies from this camera. There is no support of depth sensor but the phone works very well. Subjects are effectively separated, the effect of removing fonts is natural, very convincing.
Video
Video from the ultra-wide camera is also usable with good detail and decent colors, but a bit noisy and the exposure is not very stable.
Battery life
The Samsung Galaxy A13 is equipped with a large 5000mAh battery. A large battery explains why the phone is 8.8mm thick. But at this price range, the thickness is not worth mentioning. However, a large battery will provide a large battery life for you to use comfortably. The battery life comparison table below will show you that.
Battery endurance is not too high compared to other 5000mAh batteries on the list. But since the competitors here all have more powerful chipsets, better battery life, it is normal for the endurance to be not as good. At least the device is comfortable with the battery for daily use.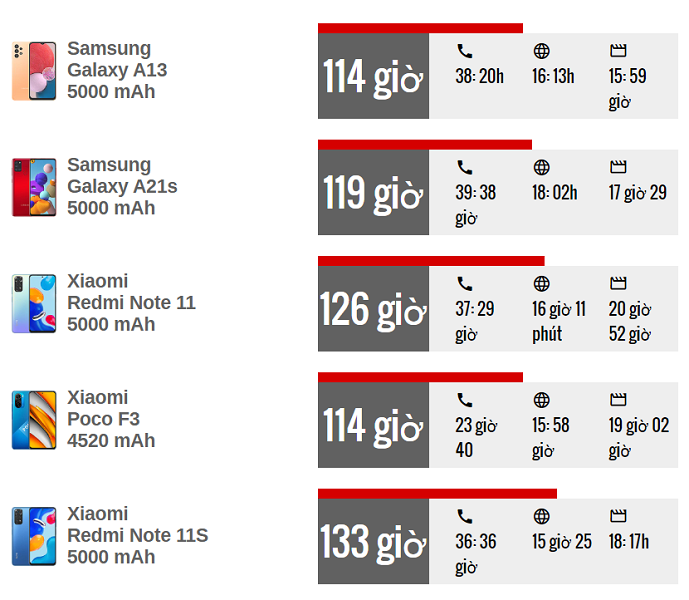 Although the battery capacity is large, the charging speed is not so strong. It only supports 15W fast charging, too slow for such a large battery. You'll get 27% recharge in 30 minutes, but a full charge will take you 138 minutes. It's been too long and this is very unfortunate.
Compare with competitors
In the price range of 4 million, there are quite a few alternatives for this Galaxy A13. Even the Galaxy A series cousins ​​have plenty already. You can choose Galaxy A12 with 48MP camera and HD + screen but it is more suitable and smoother with a cheap processor and of course its price is also cheaper. Or another option from   the Galaxy A23 is better in every way with 4K video and OIS support , of course the price is also a bit higher. The Galaxy A22 is older but more powerful in performance, the 90Hz HD + screen is still great, the price is a bit cheaper. There are also many options from other competitors.
Redmi Note 11 is also with the same price or even a little cheaper in the same memory version. It has a 90Hz AMOLED display with a large battery and 33W fast charging. The processor is also more powerful with Snapdragon 680 and faster UFS 2.2 format memory.
Poco M4 Pro 5G is another good choice. It has waterproof, 90Hz LCD screen, More powerful processor, has stereo speakers, 33W fast charging. Meanwhile, the price of this phone is about the same.
The Realme 8 is a great choice despite not having 5G. But it has a Super AMOLED screen, 4K video recording, 30W fast charging that is much more prominent, a processor of only 12nm but much more stable. Of course, its price is also quite a lot higher.


Conclude

In short, the Samsung Galaxy A13 phone is a pretty good cheap device of this brand. At the price range of about 4 million you will not be able to play games with it, but taking pictures during the day is great, and at night, ignore it. Of course, at the cheap price range, you can only choose to stand out on one side and the other sides have been knocked out by competitors like I mentioned above. Below are the advantages and disadvantages of the Samsung Galaxy A13 phone.