Laptop
Purism Librem 15 Review: Form A to Z
Although I've long been a supporter of free software, I've discovered that most of the time my views tend to lean toward the more practical Bruce Perens Open Source side. Although I support the principles of free software, I also accept other Open Source licenses that might not adhere to the definition of free software. As well, I don't use the term GNU/Linux. As long as a wireless card or video card worked in the past, I didn't give it much thought. I also didn't give it a second thought that my BIOS was proprietary software.
Then came the Snowden disclosures. My motivation to improve my overall security and pay more attention to privacy came from the sheer magnitude of the loss of privacy. In the past, the idea that a binary blob, firmware, or BIOS might include NSA-approved spyware might seem a bit paranoid. These concepts seemed less far-fetched after the Snowden leaks and the subsequent revelations regarding the ANT catalog. I discovered that I was leaning more in the direction of Stallman. Being able to view the source code for every component of your system, from browser plugins to kernel drivers and even the BIOS, is one of the only methods to be absolutely certain that you don't have a backdoor on it.
It turns out that owning a laptop with only Free Software is very challenging. Even if you choose hardware that is compatible with free software drivers, the BIOS is still a pain. Even though coreboot and libreboot are excellent Free Software BIOS implementations, many laptops require hardware BIOS chip flashing with pomona clips, which I wasn't willing to risk bricking a laptop for. I used the outdated Thinkpad X60 laptop series, just as other privacy activists. The keyboard is excellent, and more crucially, you could update its BIOS with coreboot or libreboot from within Linux itself—no hardware hacking was necessary—despite the device's age, lack of power, and low-res screen by today's standards. So I did exactly that.
The Purism Project
What I kept hoping for was a laptop with more advanced specifications but the same full stack of free software. The Novena project went one step further with open hardware, but I just couldn't justify the price for their laptop option given that it lacked a keyboard and didn't appear to be all that practical for lap use. I then learned about the Purism Librem 15 laptop crowdsourcing effort a few weeks ago. This notebook appeared and performed like a typical laptop while aiming to be totally Free Software from the BIOS on down. When I called the CEO, Todd Weaver, it turned out that he lived nearby, so I was able to meet with him and discuss the proposal. Weaver is a Linux and hardware nerd who has used Debian in particular for a considerable amount of time. In our conversation, it became clear that he truly believes in Free Software (full approval from the Free Software Foundation is one of the goals for the Librem 15), and that he is very open to feedback for the design from both a Free Software and a privacy and security perspective. He also made it clear that he wanted to create a high-quality laptop.
His crowdfunding campaign ends on January 31st, 2015 and as of yet there hasn't been a full review of the Librem 15 hardware so I was excited when he offered to let me take a prototype home with me to try it out. I've used it off and on for over a week now and below are my thoughts.
The Hardware
I'd want to start with a few disclaimers before I get into too much detail on the hardware. First off, since this is a very early prototype of the hardware, my expectations are considerably different from what they would be if it were a finished good. This laptop cover had numerous times been unscrewed and opened to view the general design and take pictures (and Weaver gave me permission to open it up if I wanted to—it just requires removing some screws along the bottom). This particular prototype's BIOS hasn't even been converted to Coreboot yet.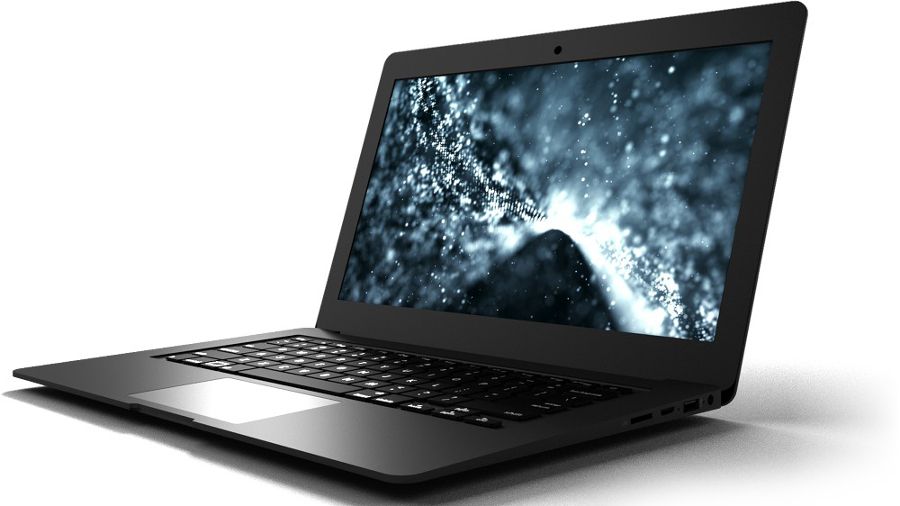 Second, and this is one of the more intriguing aspects of the Librem 15, a number of the hardware specifications have changed since I first received the laptop in response to input from the project's backers. For instance, the model I own has an Intel i7-4712MQ processor and an NVIDIA GT840M graphics card, but in response to backers who were interested in using Qubes (a security-focused Linux distribution that isolates individual software tasks into their own VMs), the processor has been changed to an Intel i7-4770HQ that supports virtualization extensions, though this also means that it will need to use the onboard Intel Iris Pro Graphics 5200 card. Nonetheless, for those who desire them, he will still have a few computers with the outdated specifications. Moreover, the initial layout permitted as much RAM as 8GB. While it is more than plenty for someone like me, the motherboard has been modified to support up to 32GB RAM in case you need it to run Qubes or other demanding virtualization software. The original 1 "a 1920×1080 (1080p) display. Since I received the prototype 15.6 last week "There is now a choice for 4k 3840×2160 monitors.
Here are the current hardware specs:
15.6″ display in either 1920×1080 or 3840×2160
4 Core (8 Threads) 3.4GHz Intel i7-4770HQ
Intel Iris Pro Graphics 5200
375mm x 244mm x 22mm 2.0Kg
4GB Mem (up to 32GB)
500GB HD (up to 1TB HD or 1TB SSD)
CD/DVD ROM Drive (or extra drive bay)
48 Wh lithium polymer battery
65W power adapter
Three USB 3.0 ports
One HDMI port
One Pop-Down RJ45 Network port (r8169)
802.11n WiFi (ath9k)
720p camera
HD Audio
Mini-TOSLINK optical fiber connector
Full-size backlit keyboard
SDXC card slot
"Is that a Mac?"
While looking at the Librem 15, one of the first things you'll notice is how many design elements appear to have been borrowed from Macbooks. There is the metal-tone case and the black backlit island keyboard and a couple of times when I took the laptop out in public I was questioned whether it was a Mac. I can understand the choice given the popularity of Macbooks, despite my own personal biases, which I'll discuss in a moment (in particular in the San Francisco Bay Area where both Weaver and myself live). Over the past few generations, even the Lenovo Thinkpad laptop brand has started to imitate the Macbook with island keyboards and buttonless trackpad mice.
Now let's clear up a few of my personal biases. I've always favored portable laptops. For those of you who remember what VHS tapes are, my first laptop was a little Toshiba Libretto 50CT, and I later upgraded to the 10.6″ "For many years, the screen of the Fujitsu P series. I wasn't ready to purchase something as enormous to me as an X series Thinkpad with a 12" screen until I received my N900 to act as my genuinely portable Linux computer "screen. Also, I prefer trackpoint mice and have always turned off the touchpad on any laptops I've been given for work that had one because I don't like it. Eventually, I'm a keyboard snob. I have a vintage IBM Model M keyboard at home, and a contemporary Unicomp with buckling springs at work. Also, I dislike Macs. I'm upfront about all of my biases because I'm aware that they are rather strong, but I tried to review the hardware while putting them all to one side.
So how did the equipment perform? The laptop is obviously bigger than most I'm used to, but even though it was too big for me to use on my lap, I found that I quickly grew accustomed to the enormous screen (and that was even the lower-res 1920×1080 screen). It was nice to have a complete browser window, a large text editor and a terminal accessible at the same time. Although I can appreciate why Weaver chose a buttonless touchpad mouse (it allows for multi-touch capabilities), I'm still not used to them and occasionally find my wrists accidentally moving the mouse (albeit it appears that won't happen in the final notebook). If you've read any of my articles for Dr. Hjkl, you know that I eventually used one of the Fn keys to turn off the mouse whenever I wasn't using it. Speaking of function keys, the Librem 15 will include distinct function keys to turn off the webcam and the microphone, which is a good hardware feature that will appeal to privacy activists.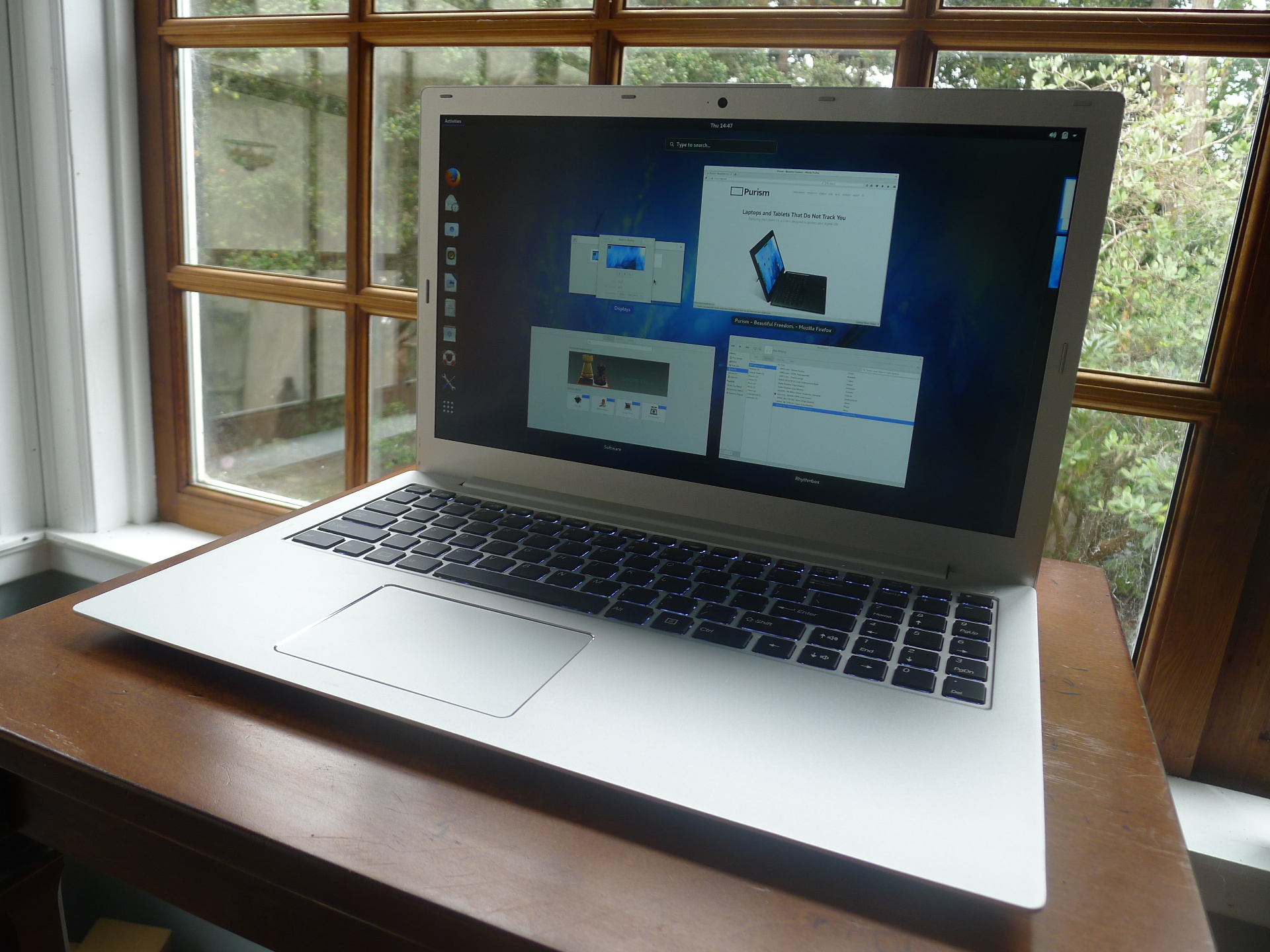 I was shocked to find that the keyboard was quite decent for a laptop keyboard. First off, a laptop this size gives you plenty of space for a full-size keyboard with a number pad. More importantly, even though it has a contemporary island keyboard design that I don't particularly like, this one's tactile feedback was far better than that of other island keyboards I've used. When you press a key, it feels much more firm than, say, a contemporary Thinkpad X240 island keyboard. In spite of this, I compared this laptop to an X60, X200, and X240 (comparing any of these to a Model M just isn't fair) and I believe that the X60, X200, Librem 15, and X240 would be my personal favorites. Even though the Librem 15 has decent tactile feedback, I found that when comparing all of these keyboards, the X60's older-style keyboard allowed for significantly more key travel in addition to having good tactile feedback. That results in typing that is both quicker and more precise for me.
I didn't conduct a lot of graphics card testing on this prototype because the majority of the Librem 15 models in production will have different graphics cards. But, I found the system to be responsive enough, and since the CD-ROM drive can be replaced with a hard drive, you could simply use a quick SSD as your primary drive and a secondary large-capacity platter drive for bulk storage (although while the laptop touts up to 8 hours battery life, being able to swap the CD-ROM for a battery would have been even better). I had no problems with Linux support because all of the hardware was chosen because it could be used with totally free software drivers. Having said that, I did had to start Tails in failsafe mode for this specific model to get it to properly initialize the graphical login, but I don't think it will be a problem for the finished laptop with Intel graphics.
The Software
The Trisquel distribution, which I had never heard of previously, is used by the Librem 15. In essence, it's a Debian-based distribution that not only completely lacks any repositories that offer non-free software, but also eliminates the non-free repository by default. As the Librem 15 is hoping to receive the FSF seal of approval, it makes logical that it was chosen for the laptop because it is on the list of official GNU/Linux distributions that the FSF has approved. Given that it is a Debian-based distribution, anyone who has used a Debian-based distribution in the past shouldn't find the desktop environment or the majority of the software to be all that different. Of course, you'll need to look for any proprietary software on your own if you do want to use it (such as specific multimedia codecs or authorized Flash plugins). Yet, the entire purpose of this laptop is to avoid any software of that nature.
As I've already indicated, Free Software isn't limited to the operating system; all of the hardware, including the video, wireless, and Ethernet adapters, was selected to avoid needing proprietary binary blobs. Coreboot, an open source BIOS replacement, is also planned to replace the BIOS; however, even in that scenario, the Intel Management Engine will still be needed to start the laptop. This piece of code, which up until now has been loaded as a binary blob even in Coreboot, aids in initializing the hardware at boot time. Another factor driving the appeal of the X60 among those concerned about privacy is the perception that the Management Engine may have the capability of containing a backdoor into the system (no Management Engine). Notwithstanding the fact that as of the time of this writing, this has not yet occurred, Weaver is dedicated to working with Intel to open up the Management Engine code and enable Purism to generate its own Management Engine code. However, that objective has already been advanced in a significant way. On December 18, Purism declared that the Librem 15 would be unlocked to support the use of unsigned firmware.
The Verdict
The Librem 15's size overall and its mouse in particular don't necessarily suit my preferences for laptop hardware, but the company's mission most certainly does. There weren't many laptop options up to this moment, much less any with contemporary hardware and a contemporary appearance and feel. The Librem 15 is a wonderful first step in Purism's sincere efforts to produce a high-quality laptop that would appeal to both the Free Software community and privacy activists. I believe Purism is on to something in this day and age of widespread surveillance, rootkits packed with business software, threats of hardware backdoors by nation states, and generally more sophisticated attacks. A computer that can share the source code for each driver, application, and firmware it uses becomes increasingly desirable as more people prioritize transparency as a security measure.