Phone
OnePlus 8 Pro Review: This Year's "Flagship Killer" Of Android Phones
Previously, OnePlus wanted to create phones that would become the Flagship Killer in the world smartphone market. Now with the OnePlus 8 Pro, they have done just that. For a pretty decent price, you get a 120Hz screen, great battery life with super-fast charging, and great specs. There are many interesting things about this phone waiting for you to discover. Let's evaluate in detail about this OnePlus 8 Pro through the article below.
Specifications
Detailed review of OnePlus 8 Pro phone
Design
The design style of this OnePlus 8 Pro is generally very similar to the predecessor. However, you will see a punch-hole screen instead of a pop-up structure like in the 7 Pro. Also different color finishing and trimming for the LED light, for the laser sensor and a fourth camera are the big differences that distinguish these two phones.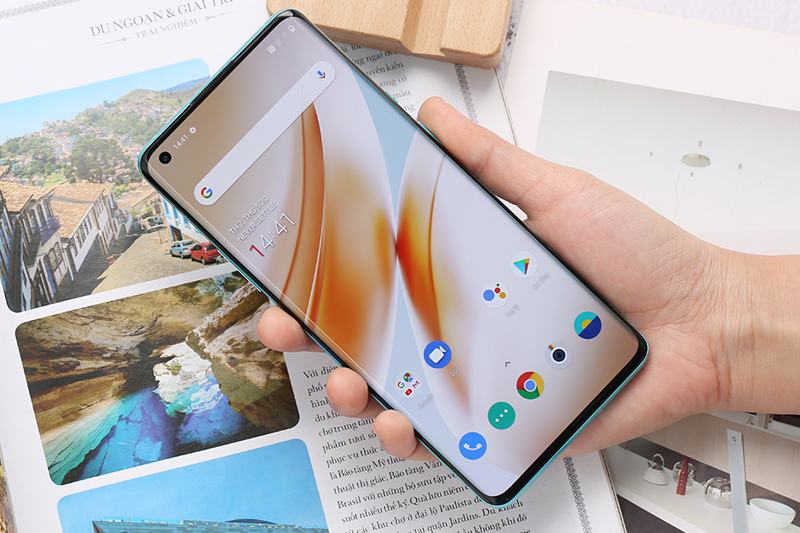 Blue is still considered the main color of OnePlus so far, but you have never received a blue version as beautiful as this one. You'll still have the same icy blue color as before, but now with an extra cool deep sea blue.
Also you still have a curved screen but its curvature is smaller. It gives you a more "boxy" feel than curved. The feeling of holding the phone in your hand is quite large but you will surely get used to it easily.
The IP68 waterproof and dustproof standard is the best addition to OnePlus devices. That's what OnePlus users have wanted for a long time. It was finally done. Of course, only this Pro version, the regular version like is still not available, guys.
Front
The front is occupied by more than 90% of the screen. This is a really large aspect ratio and the 20:9 split screen is very harmonious. That makes a curved screen with a hole punch for the 16MP selfie camera in the upper left corner. Its edges are also very thin, including the top edge, but the bottom edge is still a bit thicker.
We have a speakerphone strip placed at the edge of the screen with the chassis. It's also part of the speakerphone that makes up this phone's stereo speakers.
Backside
The back is also finished with frosted glass like the predecessor Pro versions. You will have 3 color versions that are Glacial Green, Ultramarine Blue, Onyx Black. Of these colors, I still like Glacial Green the most, but many people are impressed with the new Ultramarine Blue color along with Onyx Black.
The main difference with its predecessors is the quad-camera arrangement on the back. This year's version has an extra lens and it's not in the camera cluster. It is arranged outside together with the laser sensor and LED.
The remaining edges
The chassis is made of aluminum and has the same matte finish as its back. This is the synchronization to create harmony for a beautiful design. The layout of the connection ports and physical buttons remain the same as the predecessors.
The right edge is still the power button along with the slider. This slider has been a very nifty feature of OnePlus since it first hit the market. Now this slider is designed to be smaller, the sliding feeling is much smoother.
The left side has only the volume control bar. It is very solid and feels very good to press.
The bottom edge focuses the most, but still omits the 3.5mm headphone jack. In the middle is the USB type C charging slot, followed by the main microphone and sim tray, the opposite side is the external speaker strip. Here we have a very loud and standard stereo speaker system. The sim tray has only 2 sim slots and does not support memory cards.
The top edge is nothing special here other than the secondary microphone.
Screen
The screen of the OnePlus 8 Pro has a lot of improvements. The first is an unlimited 120Hz screen refresh rate. That's a lot better than Samsung's Galaxy S20 Ultra because it's limited to 120Hz at FHD+ only. This jump creates a completely different game experience.
This is an extremely bright OLED display with manual screen brightness reaching 538 nits while in automatic mode up to 888 nits. The fact that there are many different measurements giving different brightness leads to inconsistencies but this is a measurement on a white sample of 75% of the screen.
There are two features on the display of the 8 Pro: "Pro Vivid Color Effects" and "Motion Graphics Smoothing". This is the first time a phone manufacturer has implemented motion smoothing into a smartphone screen . This feature creates AI frames that squeeze in between the original frames and generate larger frame rates. For example, you have a 30 fps original video but through this feature you have a 60 fps video to watch.
Software
OnePlus 8 Pro has made small improvements in the user interface to get the best experience suitable for the 120Hz display. With a new monitor, you'll have a smoother interface, and every action on your screen is incredibly responsive.
The OnePlus 8 Pro's in-display fingerprint scanner still maintains extremely fast and accurate identification and unlocking. The lock screen is a standard for all user interfaces, and you can quickly access many applications from this lock screen. You can call up the Google assistant or the camera by swiping from the corner of the screen.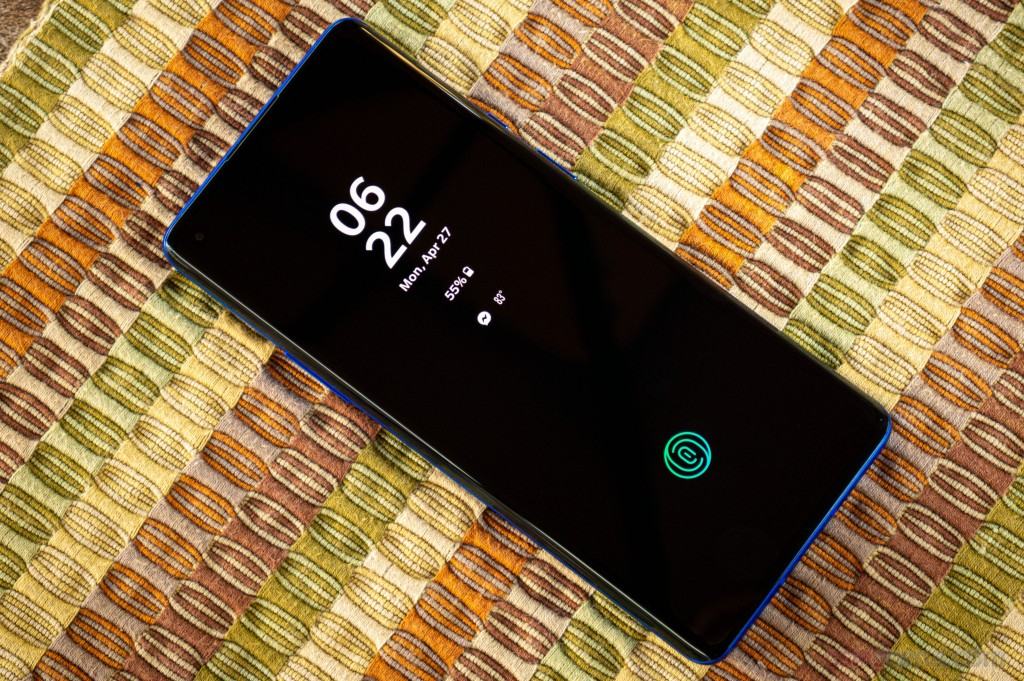 Finally, OnePlus has added an always-on display to the 8 Pro. This is something to expect from OnePlus users now. Although it has just been added, the operation is still very stable, but it is not known how it affects the battery life.
System-wide dark mode is used by OxygenOS as a system-wide theme. So you will only be able to turn it on and off, not timed it like other UIs.
There is a very noticeable new point on the OnePlus 8 Pro is the Live Caption mode . With this mode you will be able to convert audio into subtitles. It is very popular with users but it has a major limitation that it only supports English. Hopefully in the near future it will also support Vietnamese so that my brothers and sisters can use it easily. This feature is very suitable for people who are hearing impaired but have a good level of English reading.
Performance
While the OnePlus 8 Pro shares the same processor as many of its competitors, it still comes out on top when it comes to performance. This is possible thanks to the optimization of the software and combined with leading memory.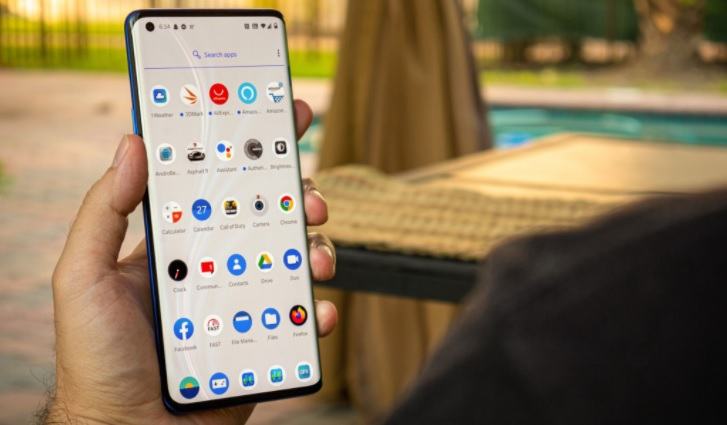 OnePlus 8 Pro is powered by this year's latest Snapdragon 865 processor. This processor consists of 1 high-performance core 2.84 GHz Kryo 585 Gold, 3 medium-duty cores 2.42 GHz Kryo 585 Gold, and 4 cores 1.8 GHz Kryo 585 silver. It also uses the latest Adreno 650 GPU.
The 8GB and 12GB RAM versions of the OnePlus 8 Pro both use LPDDR5X RAM for faster application and storage speeds. Accompanying it is 128GB and 256GB of internal memory with the most powerful UFS 3.1 format available today. It gives extremely fast data retrieval and writing speeds that not all phones have.
CPU Performance
For a more accurate assessment of CPU performance, we will take a look at the Geekbench 5.1 test. Here we can clearly see, in the multi-core post OnePlus 8 Pro is only behind Apple iPhone 11 Pro Max and vivo iQOO 3 5G but the difference is not too high.
GeekBench 5.1 (multi-core)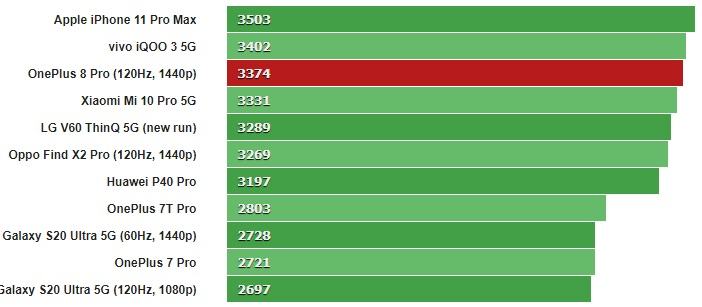 In the single-core review, all phones using the Snapdragon 865 are about the same, but the vivo iQOO 3 5G is slightly ahead and the Apple iPhone 11 Pro Max is far ahead.
GeekBench 5.1 (single core)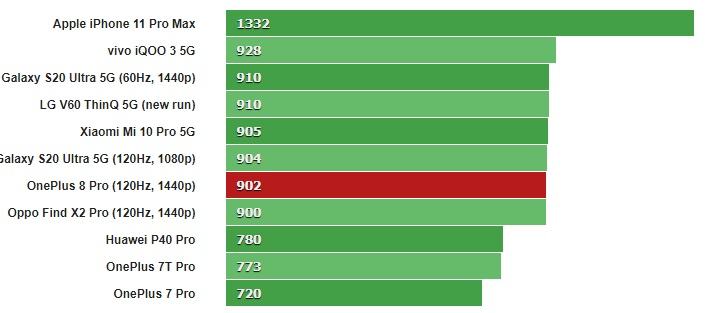 GPU Performance
The graphics performance of the OnePlus 8 Pro is always at the top of the charts. However that is relative speaking in an equivalent screen and resolution. Maybe it will give a lower score due to using QHD screen while competitors use FHD +.
3DMark SSE OpenGL ES 3.1 1440p

3DMark SSE Vulkan 1440p

Overall performance
There are a few competitors that have beaten the OnePlus 8 Pro in overall performance scores. The most prominent is Xiaomi Mi 10 Pro 5G and Oppo Find X2 Pro leading hand in hand, followed by vivo iQOO 3 5G and OnePlus 8 Pro side by side. The other competitors are still a long way behind.
AnTuTu 8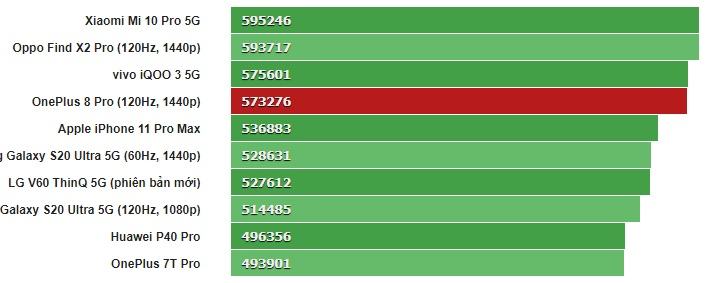 Ability to play games
The OnePlus 8 Pro is a phone with a large, high-resolution display with a 120Hz refresh rate. Moreover it comes with the most powerful Snapdragon processor in the current Android world. This is a monster for gaming when it comes with stereo speakers along with very good cooling.
I tested it with the PUBG game title without playing too much Lien Quan anymore because the actual requirements of Lien Quan are also much lower than PUBG. Overall, the PUBG playing experience is so great. The first is the ability to move the character extremely smoothly, the ability to aim is extremely good without any lag. I have tried playing games with many other devices with Snapdragon 865, but this 8 Pro is really smoother. Perhaps this superiority comes from the 120 Hz screen.
Camera
Although the main camera of the OnePlus 8 Pro has the same 48MP resolution as its predecessors, it uses a significantly larger Sony IMX689 sensor than the previous IMX586. Where the old sensor has a 0.8 µm pixel, the IMX689 has a 40% larger 1.12 µm pixel, allowing for better low-light performance and better detail. Furthermore, it has optical stabilization.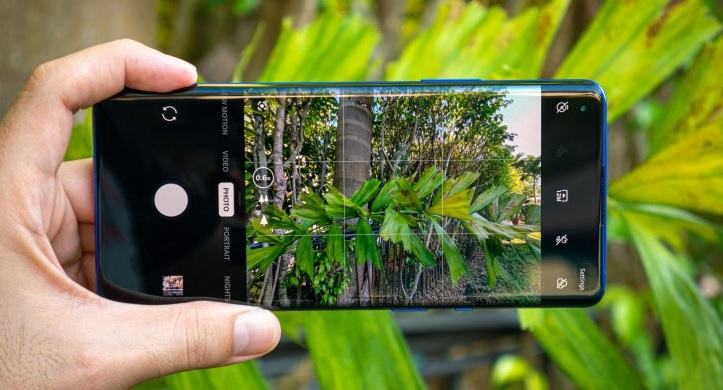 In addition, this sensor also features All Pixel omnidirectional phase-detection autofocus. It completely overcomes the difficulties of previous dual-pixel focusing. This helps the sensor focus much faster and more accurately. Furthermore, it has laser autofocus as a precaution that is rarely used.
There's also a 48MP sensor behind the ultrawide lens. While it's not as big as the main sensor, it's much larger than other ultrawide cameras. This sensor is also equipped with autofocus and it also acts as a macro camera.
The telephoto camera is placed outside the 3 camera cluster vertically, it is located on the laser and LED light. It carries only an 8MP sensor that has not changed much from previous generations. It has 3x optical zoom with f/2.44 aperture.
There is one more addition that is currently unavailable on the market, which is a 5MP color filter camera in the rear camera cluster. It's not a depth sensor like I thought, but it has a filter that changes the actual colors for artistic photography.
Main camera
Photos taken from the main camera are generally well exposed, sharp and detailed. It has a relatively good dynamic range with realistic colors and proper white balance.
While the main camera only outputs 12MP images by default, you can also shoot with the full 48MP resolution. But in this mode, you need to wait a few seconds to review the captured image. Of course, the resulting image will be more detailed and sharp, in return it will require more storage gain and appear some noise if you look closely.
The main camera has a large sensor so capturing night scenes with it is quite good. Although there is some detail lost in the shadows, the illuminated part has a very good amount of detail. White balance and colors are on par with the white LED-lit neighborhood.
Wide-angle camera
The ultrawide camera also takes great photos. It has the largest 48MP sensor ever. It produces great photos with a wider frame. Although it's not as sharp as the main camera, it really works well.
You can also shoot at 48MP native resolution with the ultra-wide-angle camera as the main camera. However, the defects we notice on the main camera are more obvious here only.
The ultrawide camera has a pretty good panorama correction feature. If you want good photos like the main camera but with a larger frame then turn it on. But when you want a fisheye effect for the image, turning it off will be more interesting.
The ultra-wide-angle camera takes pretty good night photos because it has been upgraded to a sensor and in fact is the sensor in the main camera of the 7 Pro. As long as there is enough ambient light, the night mode will make you have good photos.
You will use the ultrawide camera to take super close-up photos. The autofocus allows you to get close to your subject and capture some of the depth thanks to the large sensor. This is the largest sensor for macro photography and it certainly beats the usual 2MP sensor.
Tele camera
The 3x telephoto camera has no upgrade compared to its predecessors, it is no different from the 7 Pro version. Furthermore, the 3x image received can come from the telephoto camera or the main camera. Because the telephoto camera has an f/2.4 aperture, it's not ideal in low light.
Overall image quality from the 3x telephoto camera is pretty good. Colors are fine with white balance just right for the situation. However, it is not really good when shooting wide dynamic range.
In low light, the 8MP telephoto sensor does not perform well. So you can only accept a cropped image from the main camera. Of course the received image is not so beautiful but usable.
Color Filter Camera
The color filter camera is the latest addition to this flagship, and it's not really on any other phone before. It has a photochromic filter on the sensor and it turns real color into something new and interesting.
These photos are definitely unique these days. However, it only has a color filter effect, does not have autofocus and it also does not support depth measurement. In the end, it is only used to create artistic photos. Sometimes it becomes meaningless because there is not always the emotion of artistic photography.
Portrait
There won't be a dedicated depth sensor, so you can just rely on the main camera to detect depth and isolate subjects in portraits. You can take portraits from the main camera or the telephoto camera, but I prefer telephoto because the image looks more flattering.
However, if you shoot portraits from the main camera, you will have better skin tones. Subject separation is also quite good, similar to telephoto, and the bokeh effect is quite convincing.
Front camera
The 16Mp selfie camera doesn't have autofocus, you have to focus on a fixed focus. Even so, you'll still get stunning selfies with great dynamic range and just enough definition. The recorded colors are quite realistic, not saturated like the main camera.
Portrait selfies using AI are great. It detects the subject and erases the font without leaving any wrong marks, even with "lost" hairs.
Video
Battery life
OnePlus 8 Pro has a Li-Po 4,510 mAh battery, although this is a small battery for this year. However, you will not be disappointed in its battery life. With battery tests you will see how its screen refresh rate affects battery life. Most of that disparity lies in the phone's ability to surf the web with wifi.
Standby time 103 hours (120Hz) and 109 hours (60Hz)
Call time 28 hours 35 minutes
Surfing time with wifi 10 hours 58 minutes (120 Hz) and 12 hours 45 minutes (60Hz)
Video playback time 18 hours 03 minutes.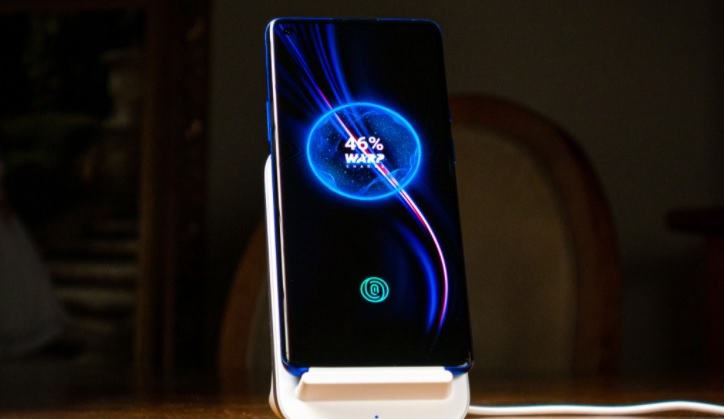 While the 4510 mAh battery isn't as big as its competitors, it's well compensated by its 30W fast charging system. It's a 30W wired fast charger that can recharge 50% of the battery in just 23 minutes.
You can also use the included 30W wireless charger, but it's a bit slower than wired charging. It will recharge you 50% battery in 30 minutes. Finally, it can also charge 3W wirelessly.
You'll have a pretty refreshing battery charging menu here. That is the option of the "Optimized charging" feature. It has AI that learns your sleep schedule or you will have to set it. The charger will automatically disconnect during the night when you go to sleep and will make sure the battery is fully charged before you wake up. This is really beneficial as well as harmful because sometimes your sleep is not on schedule. It's best to open it when you feel like it.
Conclude
What I feel about this OnePlus 8 Pro is that it's simple, it was born to solve the very basic needs of smartphone users, and it does all its tasks well. Besides the iPhone, I don't see any other company that can do that. This OnePlus 8 Pro is also fast, unlike any other Android on the market today except for the Google Pixel.
Not many companies can do that, partly because they make the device not run as smoothly as this, partly because they try to put a lot of features in and make the machine more confusing while the most basic experience. , the most basic problems are still not solved well.