Laptop
MSI Summit E13 Flip Evo review: Form A to Z
Most people are already familiar with MSI's gaming laptops, but did you know that this Taiwanese laptop manufacturer also makes business laptops? One of the best examples is the MSI Summit E13 Flip Evo, which has a price tag of around 40 million and boasts a number of benefits like a sleek, opulent design and potent performance thanks to the 11th generation Intel Core i7 chip. Let's talk about the MSI Summit E13 Flip Evo right now.
MSI Summit E13 Flip Evo has a luxurious design with a flexible 360-degree hinge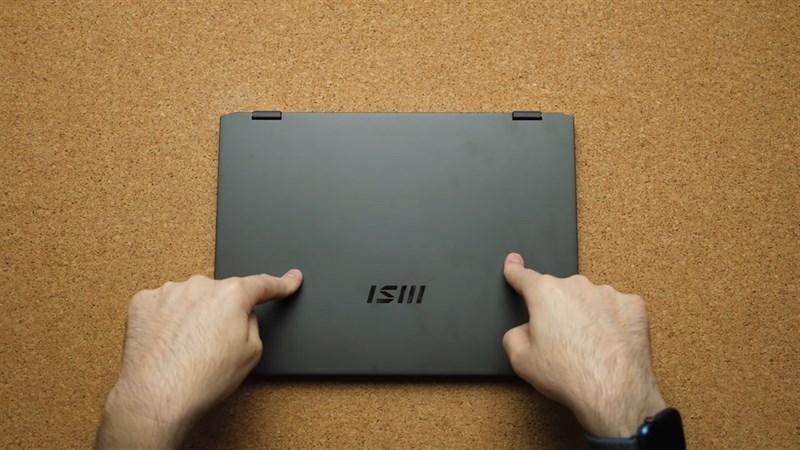 One of the most attractive points of the MSI Summit E13 Flip Evo becomes the ultra-luxurious black color with a refreshed frame and MSI logo with striking golden hues. The angular parts of the MSI Summit E13 Flip Evo are also meticulously cut based on CNC technology to create a seamless, luxurious feel. Matthew, owner of YouTube channel Matthew Moniz, also feels that the frame of this laptop has similarities with the HP Specter series, HP's business laptop line.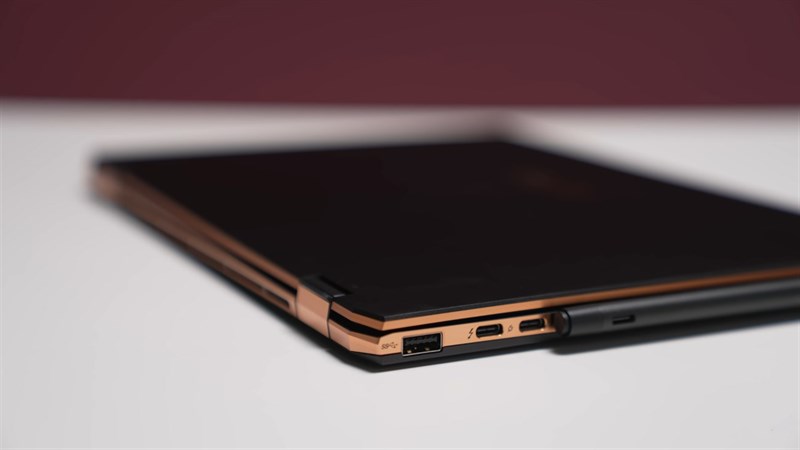 In addition, the overall size of the MSI Summit E13 Flip Evo is only equivalent to A4 paper, namely 300.2 mm long – 222.25 mm wide – 14.9 mm thick. Combined with a light weight of only 1.35 kg, we can stow the MSI Summit E13 Flip Evo in a backpack or bag and carry it around all day without feeling heavy. In general, this laptop of MSI can meet the needs of moving office workers or business people.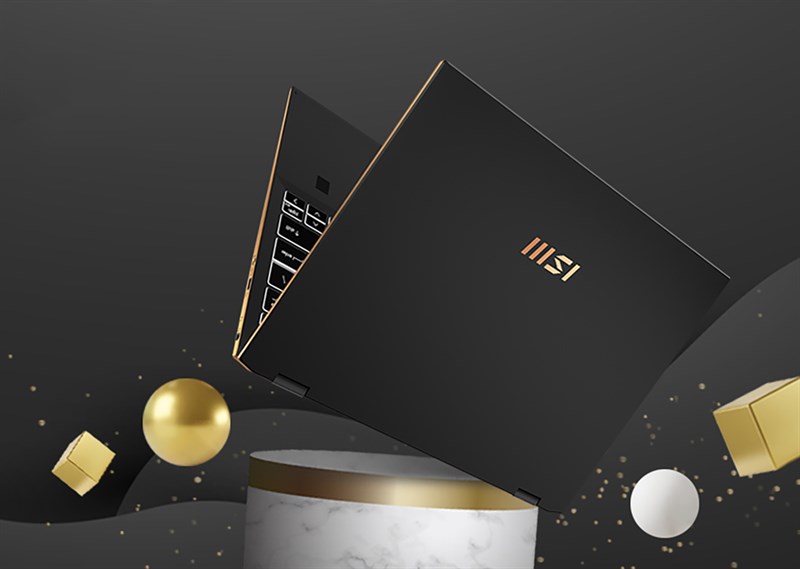 True to its name, the MSI Summit E13 Flip Evo has a 360-degree swivel hinge that allows users to use the computer in many different positions or use it as a real large tablet, easy to share . ideas with people without cumbersome redirects.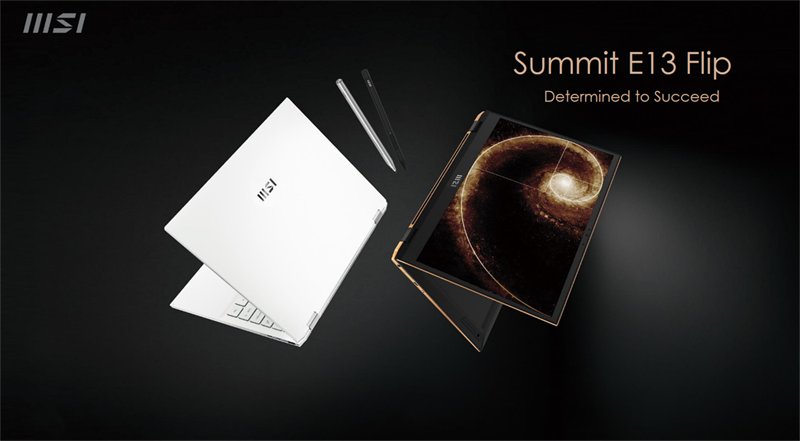 MSI also equips along the sides of the machine popular connection ports such as Thunderbolt 4, USB 3.2, USB Type-C and Micro SD card reader. This will help us to easily transfer data to many different devices without buying additional adapters.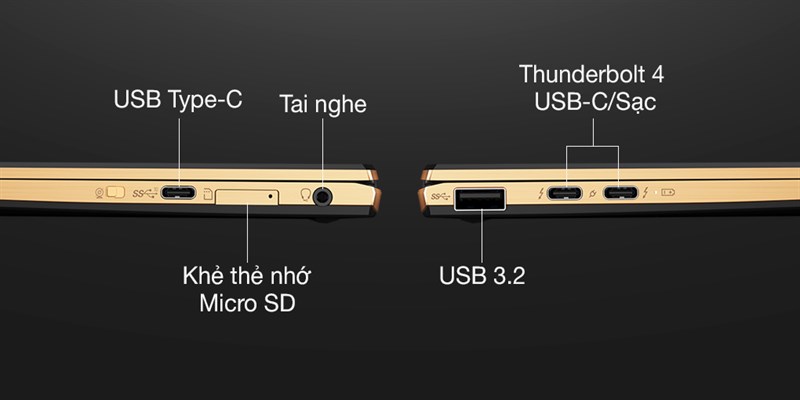 Opened inside, we will have a screen with a compact size of only 13.4 inches, support for touch and a keyboard with a key travel of 1.5 mm for a relatively good typing feeling, bouncing keys, according to the comment of Mr. Matthew.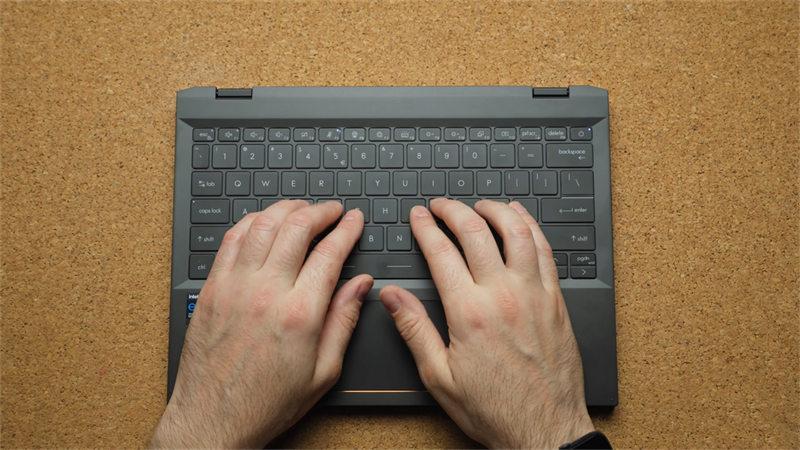 Besides, he can easily work in many different lighting conditions thanks to the backlight system that is equipped under the keyboard of the MSI Summit E13 Flip Evo, limiting mistaken typing.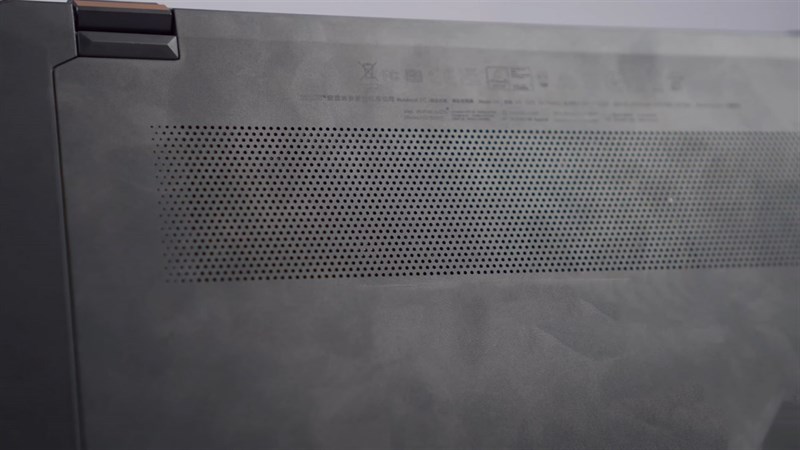 One of the points that Matthew Moniz does not like on the MSI Summit E13 Flip Evo is that the back and bottom of the device are quite easy to get dirty, fingerprints, which makes the laptop unsightly. He thinks that with such a high price, the MSI Summit E13 Flip Evo should be equipped with an extra layer of anti-fouling, fingerprints will be better.
MSI Summit E13 Flip Evo sharp screen with Full HD + resolution, touch support
As I mentioned above, MSI Summit E13 Flip Evo owns a 13.4-inch screen with Full HD + resolution (1920 x 1200) for sharp display images. Combined with that is an IPS panel that delivers clear images without color distortion at many viewing angles. In particular, the screen of this laptop also has a 16:10 golden ratio, providing the best display space to help us easily capture content and work more efficiently.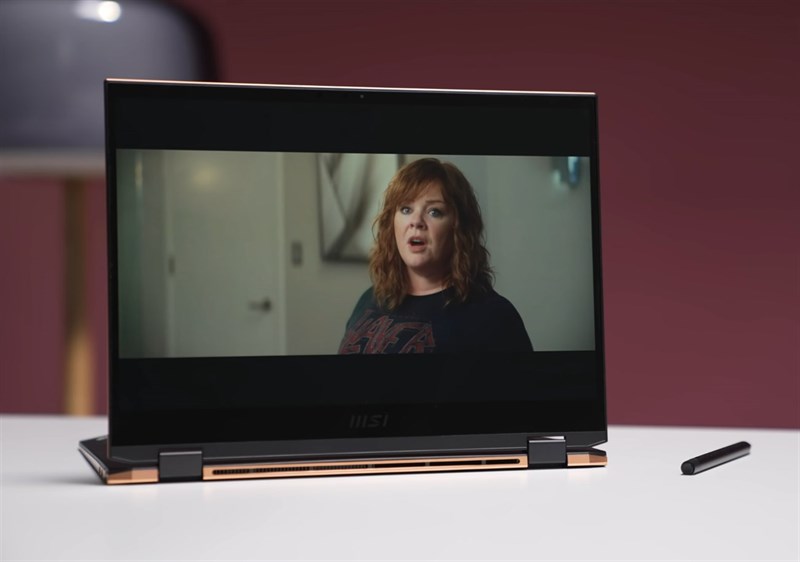 Of course, already a 2-in-1 laptop, the screen of the MSI Summit E13 Flip Evo has multi-touch screen support. When you are presenting or having a group meeting, you can quickly edit manually without having to hover or type complex keys.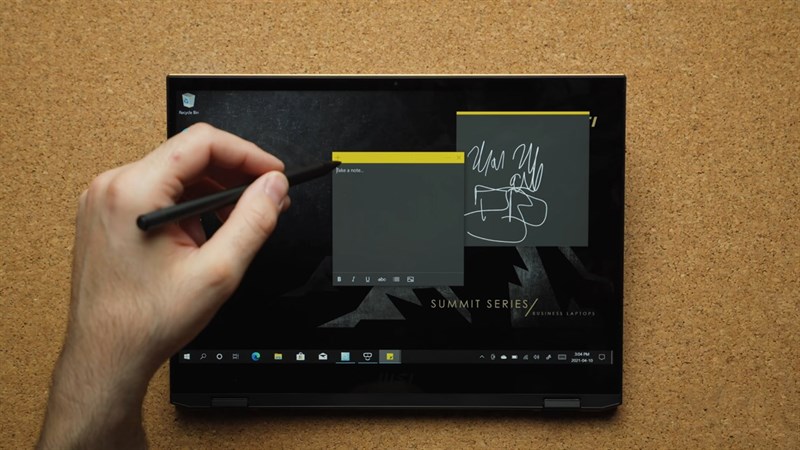 MSI also bundles an MSI stylus equipped with MPP2.0 technology with the MSI Summit E13 Flip Evo, allowing users to perform graphics-related tasks flexibly.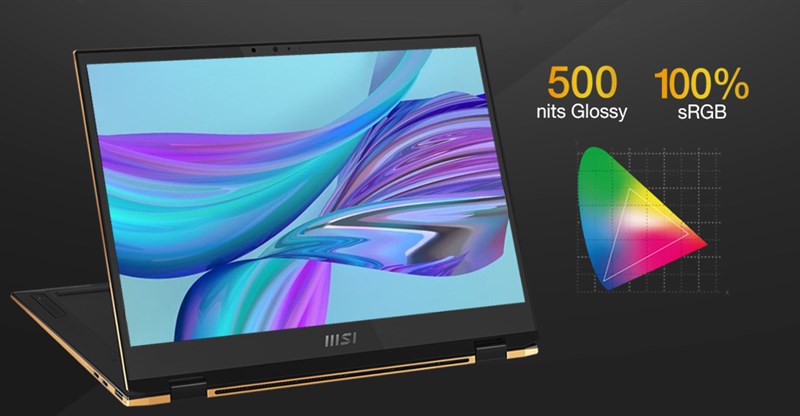 Besides, Matthew Moniz also appreciated the display quality of the MSI Summit E13 Flip Evo, good details and 100% sRGB color coverage that reproduces true images. The screen brightness of 500 nits combined with the ALS ambient light sensor technology (with the ability to change the screen brightness according to the usage environment) helps users to see clearly the image on the laptop in any environment. any light, and at the same time contribute to saving battery in lighting the screen.
MSI Summit E13 Flip Evo powerful configuration with 11th generation Intel Core i7
The following are the configuration parameters of the MSI Summit E13 Flip Evo:
CPU: Intel Core i7 Tiger Lake 1185G7 (11th generation), clocked at 3.0 GHz.
Graphics: Integrated graphics card, Intel Iris Xe Graphics.
RAM: 16 GB LPDDR4 (does not support upgrading more RAM).
Hard Drive Capacity: 1 TB NVMe PCIe Gen4x4 SSD.
Pin: 4-cell Li-ion, 70 Wh.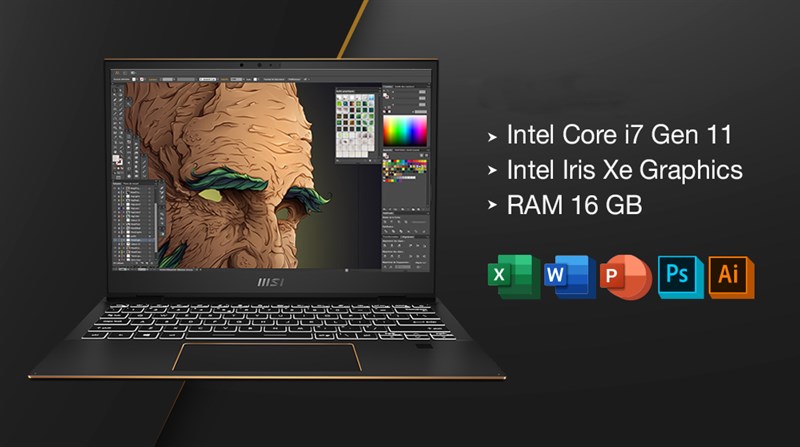 Thanks to being equipped with Intel Core i7 1185G7 chip, MSI Summit E13 Flip Evo can fully handle all tasks from office software to 3D graphics tasks or video rendering. Integrated with the 11th Gen Intel CPU is the Intel Iris Xe Graphics card that gives you far more impressive graphics performance. According to Matthew Moniz's experience, he can easily export videos with 4K quality, edit photos on professional software such as Photoshop, Lightroom with high resolution.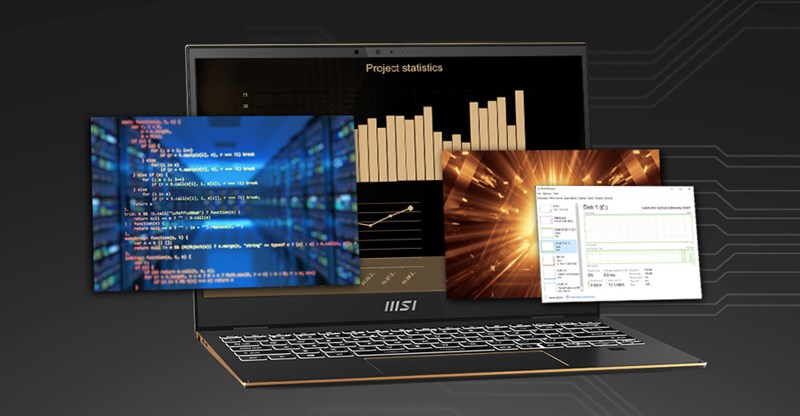 Besides, the 16 GB RAM capacity of MSI Summit E13 Flip Evo will also bring smoother multitasking, you can open a variety of applications that are both entertaining and working such as: Chrome, Word, Photoshop, Excel , … without worrying about lag. The 1TB SSD hard drive will also allow us to freely store data and help the device operate smoothly when downloading large files.
Besides the impressive specifications, the MSI Summit E13 Flip Evo also comes standard with the Intel Evo platform. This is a high standard of laptop, to achieve this the machine needs to go through the tests and meet the following criteria: 9 hours battery life, fast charging technology, Chrome page opening speed , the ability to handle office applications Google G-Suite, Microsoft Office 365, thin and light design,…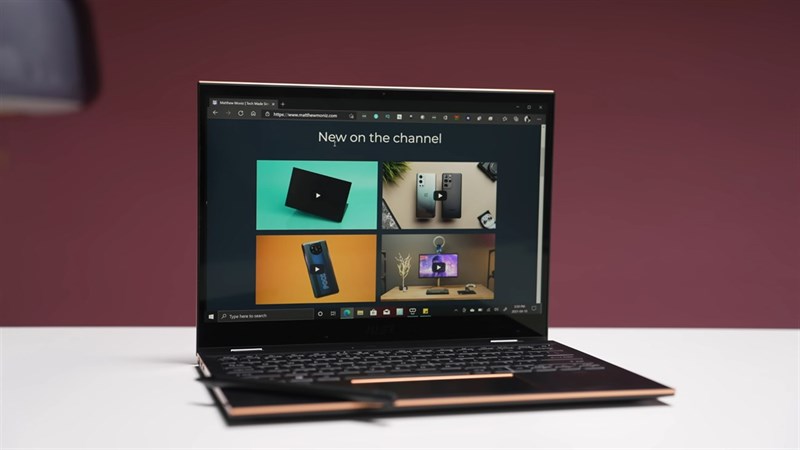 By the way, about the battery, this MSI business laptop can work continuously for more than 10 hours with basic and advanced usage tasks, according to Matthew Moniz's experience. Besides, the MSI Summit E13 Flip Evo also supports fast charging, it only takes the author about 40 minutes to charge 60% of the battery through the 20 V Power Delivery charger.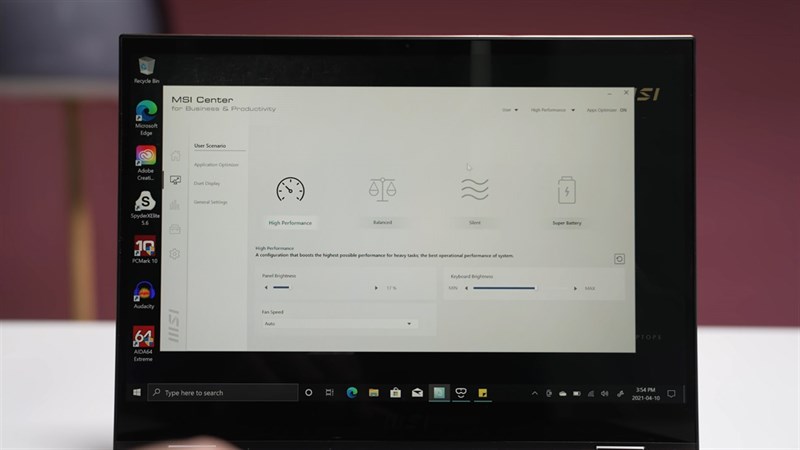 Not stopping there, the exclusive MSI Center software also helps to optimize the operation mode of the MSI Summit E13 Flip Evo to improve working performance and save energy with simple customizations to suit your needs. needs and working environment of each person.
Summary
In general, the MSI Summit E13 Flip Evo, although manufactured by a gaming laptop company, still has all the necessary elements of a professional laptop. Elegant, slim design, flexible 360-degree swivel hinge, powerful performance and long-lasting battery life.
So what do you think about the MSI Summit E13 Flip Evo? Please leave your thoughts in the comment section below to let me know, thank you for your interest and follow the article.