Laptop
Lenovo ThinkPad X1 Carbon Gen 10 (2022) – Bold Business
Detailed review of Lenovo ThinkPad X1 Carbon Gen 10 laptop (2022) – The perfect Ultrabook model in terms of design and performance
Surely, when mentioning the Lenovo brand, many users will immediately think of the famous ThinkPad X1 Carbon series with thin and light Ultrabook models but equipped with "extreme" configuration. Recently, Lenovo has continued to resonate and receive a lot of praise when "launching" the ThinkPad X1 Carbon Gen 10 laptop version 2022 version – this is considered a perfect Ultrabook in both design and design. performance. Although it has just been "launched" for only a few months, the Lenovo ThinkPad X1 Carbon Gen 10 has partly affirmed its name when it continuously appears in the Top of the best laptops today.
So are you curious what outstanding features this ThinkPad X1 Carbon Gen 10 (2022) possesses? If you have the same question, let's go with to find out more about this laptop from Lenovo!
The article will give you:
Specifications of Lenovo ThinkPad X1 Carbon Gen 10 (2022)
Highlights on the ThinkPad X1 Carbon Gen 10 (2022) laptop?
What are the advantages and disadvantages of the ThinkPad X1 Carbon Gen 10 version 2022?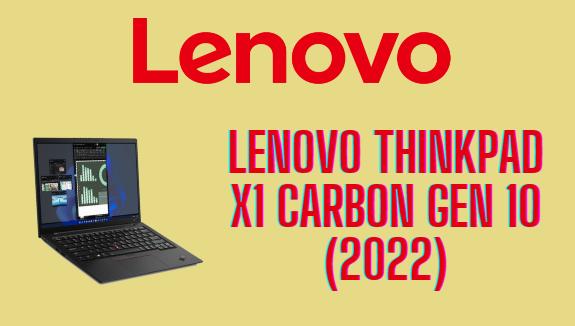 1. Overview of the ThinkPad X1 Carbon Gen 10 (2022) laptop
It can be said that the Lenovo ThinkPad X1 Carbon Gen 10 is one of Lenovo's best business laptops in particular and is regularly  in general with formidable competitors like the Dell XPS 13 Plus. . This laptop has been completely upgraded from the latest Intel processors, the sharpness of the webcam or the many quality screen options. Overall, this upgrade is considered great and above the expectations of many "hard fans" of the Thinkpad series. At a glance, the Lenovo ThinkPad X1 Carbon Gen 10 does not look much different from the previous X1 Carbon generations, but the Lenovo brand always knows how to make a difference from the most familiar designs.
Specifications:
| | |
| --- | --- |
| Microprocessor | Intel Core i7-1260P |
| Graphics card | Intel Iris Xe Graphics |
| RAM memory | 16 GB |
| Hard Drive | 512 GB SSD |
| Screen | 14 inch (1920 x 1200 pixels), 60 Hz, IPS, with touch support |
| Size | 0.6 x 12.4 x 8.8 inch |
| Weight | 2.48 lbs |
| The battery | 57Wh |
2. Detailed review of Lenovo ThinkPad X1 Carbon Gen 10 laptop (2022)
2.1. Design
In general, we will see that this product does not have too many changes in appearance compared to its predecessors. However, the Lenovo ThinkPad X1 Carbon Gen 10 still impresses with a luxurious and sophisticated design style – this is often seen on the machines that make the name of the ThinkPad X1 Carbon series on the market.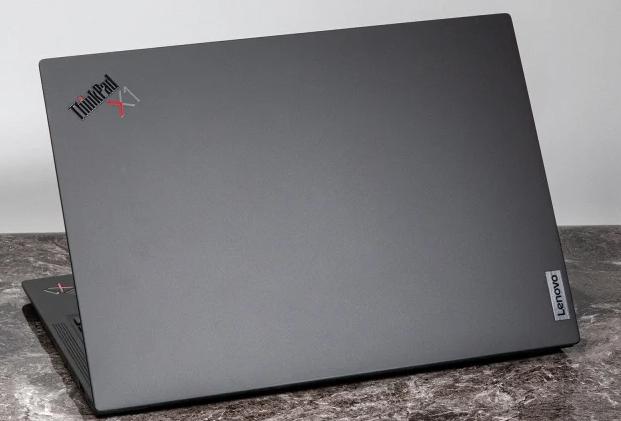 The only design change that users can easily notice on this Lenovo ThinkPad X1 Carbon Gen 10 computer lies in the fact that Lenovo has equipped the Carbon layer on the outer shell instead of the Matte layer like other laptops. previous machine. In addition, this product also demonstrates durable strength when it meets the MIL-STD 810H standard, through which users will also feel more secure during use and do not need to worry about the current flex icon on the machine.
This machine has dimensions of 0.6 x 12.4 x 8.8 inches and weighs only 2.48 pounds (about 1.2 kg) which is considered very ideal for users to put in a backpack and carry around.
2.2. Screen
The upgrade in the 2022 version is considered great when the Lenovo ThinkPad X1 Carbon Gen 10 carries no less than 7 screen options, which can be mentioned as: non-touch screen version ; touch screen and privacy filter with 1,920 x 1,200 pixel resolution; IPS screen with a resolution of 2,240 x 1,400 pixels; with a resolution of 2,880 x 1,800 for users who want the most perfect display possible; or a non-touch and touch version of with a resolution of 3,840 x 2,400 with a brightness of 500 nitsand has support for HDR400 Dolby Vision, etc. Another highly appreciated point is that most screen options are equipped with Eyesafe anti-blue light technology.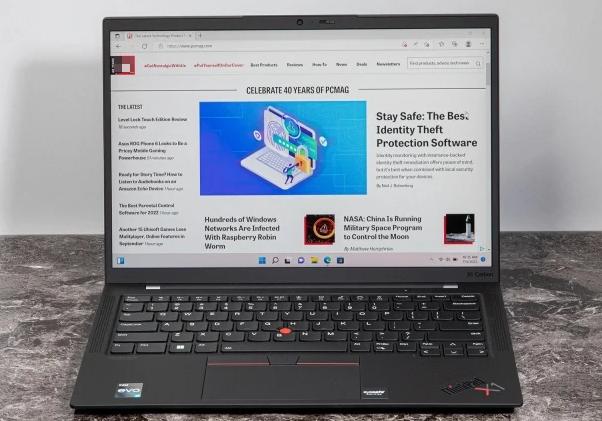 The screen version experienced and reviewed by Mega is equipped with an IPS touch screen  with a resolution of 1920 x 1200 pixels . Along with  up to 60Hz , 100% RGBcolor coverage , users can be assured of the visual experience on this machine. Whether it's working or playing games, the screen with a ratio of 16:10 is considered extremely useful when the content will be displayed more and the user also limits the situation of having to scroll and scroll through the pages. page.
The webcam  of this machine is still located in the center of the border on the screen. Although this webcam lacks the Windows Hello facial recognition feature, it has been upgraded very "genuinely" with a resolution of up to 1080p for extremely sharp images. Besides, this machine also received a lot of praise when it brought simple facial recognition (by infrared) or fancy (by MIPI interface with computer vision module).. In addition, this webcam system is also interesting when integrated with a sliding privacy shutter and a quad-array microphone. The microphone along with Dolby Voice software provides a feature that can cancel out non-verbal noise from both sides of a phone call. Or users can easily optimize the microphone for speakers around the conference table or just for people sitting in front of the computer.
2.3. Configuration
Lenovo ThinkPad X1 Carbon Gen 10 not only possesses a strong and durable appearance, but the internal configuration is also outstanding when using the latest CPU line from Intel – 12th generation Alder Lake (the most advanced version) . The machine is also equipped with a P-tail Alder Lake CPU and has up to 14 processor cores) . Specifically, the Lenovo ThinkPad X1 Carbon Gen 10 (2022) is equipped with an  extremely powerful 12th generation. With  this outstanding the machine promises to be able to multitask and also "weigh" all the heaviest office tasks today.
With 16 GB RAmand  512GB SSD , users can also comfortably use the device to serve entertainment needs such as watching movies, surfing the web or working on office tasks. .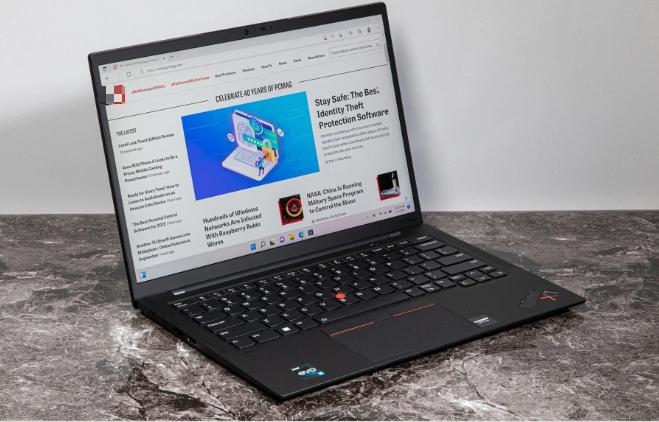 Accompanying the chip with advanced power is  a familiar and very popular Intel. The combination of CPU and GPU on this machine is very perfect and is considered the top hardware combination at the moment. This combination allows users to freely work in many different heavy-duty tasks, whether they have to deal with heavy Excel files, design 2D, 3D graphics or play heavy games. problem" makes this Lenovo ThinkPad X1 Carbon Gen 10 (2022) difficult. So it is not too difficult to understand when this machine is always highly appreciated and can confidently "beat" competitors in the same segment.
2.4. Keyboard and touchpad
The keyboard on the Lenovo ThinkPad X1 Carbon Gen 10 is still not much improved compared to its predecessor. With a key travel of only about 1.5mm along with a very typical bounce on the keys of the ThinkPad series, it gives users a very comfortable typing feeling. The integrated trackpoint also provides precise and steady movement. It is no exaggeration when many users comment that the keyboard experience of the ThinkPads in general and the Lenovo ThinkPad X1 Carbon Gen 10 in particular is considered the most perfect on laptops up to the present time.
Not only that, the Lenovo brand also equips this X1 Carbon Gen 10 laptop with a function key system that specializes in talking and is very convenient for users with a business nature who often have to meet online. The Fn and Control keys are in each other's positions, but users can still swap them back easily using the  supplied Lenovo Commercial Vantage software.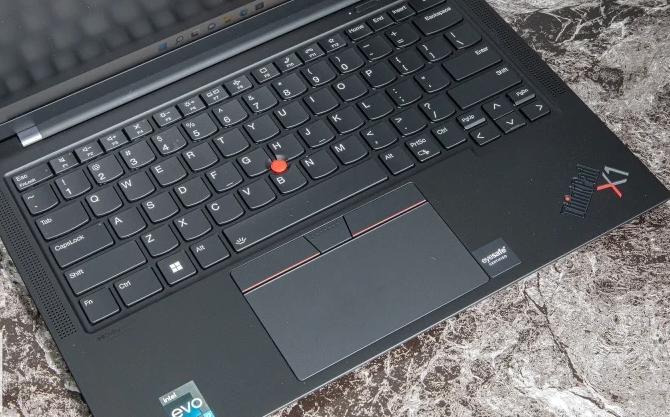 Touchpa d of the device has a moderate size for users to comfortably hover. The surface of the touchpad is also covered with a smooth glass to create a feeling of extremely smooth, flexible mouse movement and especially not clinging to sweaty hands. Like many brothers in the same line, the touchpad of this machine is still equipped with the Windows Precision Driver application , which provides an extremely accurate and fast feeling of use in each gesture. The clickpad mouse button has a short travel, the force point is very sharp and the response is very quick
2.5. Connector
As a high-end laptop aimed at business people, the Lenovo ThinkPad X1 Carbon Gen 10 has equipped itself with a fairly complete and relatively diverse port system such as 2 USB Type A 3.2 Gen 1 ports located at 2 .  etc. For many users, this is not too much or too special a number of connection ports, but with one such a thin and light machine but still equipped with such a variety of ports is really commendable!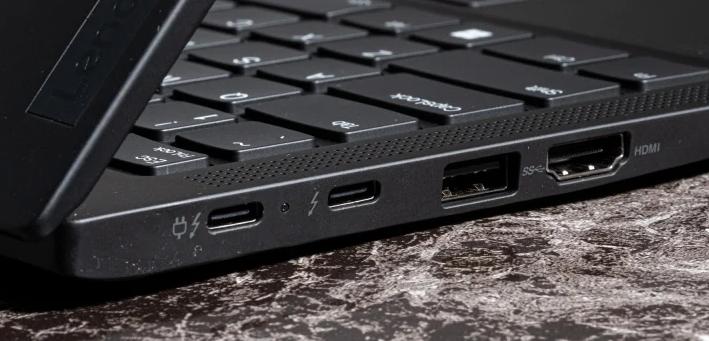 2.6. Battery and speaker
Lenovo ThinkPad X1 Carbon Gen 10 is equipped with a fairly buffalo battery to 57Wh and according to the manufacturer's announcement, this machine can easily last up to 12 hours when operating on some basic tasks. However, the actual usage time of this device will fall to about 10 hours when working and playing on many applications at the same time. Although the battery life is shortened compared to the manufacturer's announcement, this is still considered a fairly high and stable battery capacity.
Talking a little bit about the speakers of this machine, the speaker system is highly appreciated by Mega when there are two speakers facing up and two speakers facing down creating amazingly loud and clear sound. We had to reduce the volume of our MP3 listening test to 80% instead of the normal 100% volume. Although there is still a bit of bass, the highs and mids heard on this speaker are still great and deliver extremely "charming" sound quality.
2.7. Performance test
In the performance test of the Lenovo ThinkPad X1 Carbon Gen 10 (2022), Mega also added a number of rival laptop models such as the HP EliteBook 840 Aero G8, VAIO SX14, Asus ExpertBook B7 Flip and Lenovo ThinkPad X1 Yoga Gen 7 to make the review more interesting. You can refer to the specifications of these computers in the table below.

Accordingly, we conducted a test on the PCMark 10 application that simulates a variety of real-world content creation and workflow processes to measure overall performance for basic office tasks like word processing. , work on spreadsheets, browse the web, etc. We also ran PCMark 10's Full System Drive test to gauge the load times and memory footprint of these  laptops.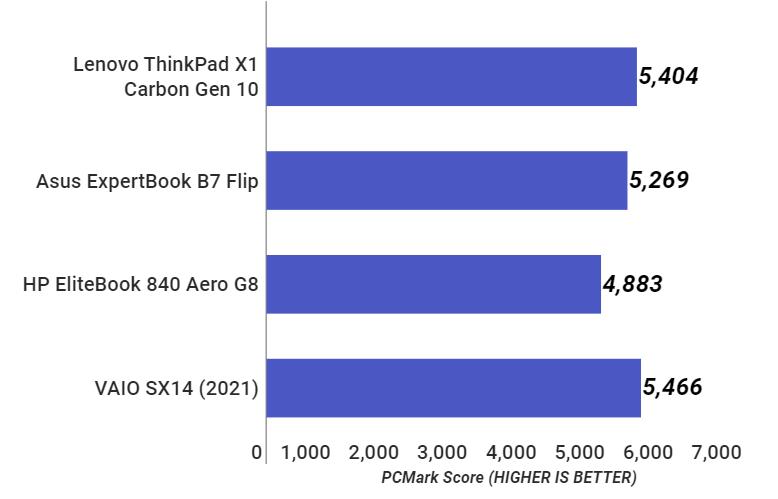 It can be seen that the ThinkPad X1 Carbon Gen 10 (2022) was excellent in CPU tests and easily surpassed the 150 point threshold in the test application. This shows that this machine possesses excellent performance, well-suited for everyday applications and is considered a  miniature
We also tested the battery life of these laptops by playing a locally stored 720p video file with screen brightness at 50% and volume at 100%. Of course, we make sure the batteries of these devices are fully charged before testing, and turn off all Wi-Fi and keyboard backlighting.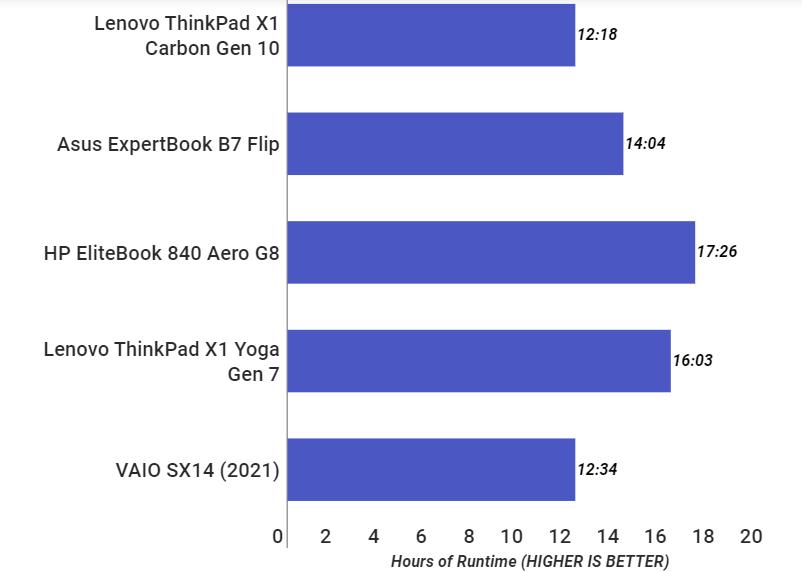 Unfortunately, the ThinkPad X1 Carbon Gen 10 (2022) has been left at the bottom of the rankings, but this machine is still appreciated for possessing a long enough battery capacity to help people get through a working day, studying. episode or an evening watching Netflix or YouTube.
3. ThinkPad X1 Carbon Gen 10 (2022) Pros and Cons
3.1. Advantage
Slim, lightweight, elegant design, but extremely sturdy.
There is a variety of screen options.
The configuration carries outstanding power.
The keyboard provides a great experience.
Various connection ports.
3.2. Defect
Has a pretty high price tag.
The 5G option has not been integrated yet.
4. Summary
Overall, the Lenovo ThinkPad X1 Carbon Gen 10 (2022) is one of the most comprehensive Ultrabooks in terms of both design and performance. Through the detailed analysis above, Mega realizes that this is worthy of a thin and light Ultrabook of quality that you need to pay special attention to when choosing in the high-end laptop segment. And what do you think about this top laptop from the Lenovo brand?