Phone
Is The Nokia 3.4 Phone Still Relevant Today?
The Nokia 3.4 phone was only launched at the end of last year (December 2020). At this point, is Nokia 3.4 still a good choice in the low-cost phone segment?
Some specifications of the Nokia 3.4 . phone
Screen technology: IPS LCD
Resolution: HD+ (720 x 1560 Pixels)
Wide screen: 6.39″ – 60 Hz . refresh rate
Maximum brightness: 400 nits
Touch screen: 2.5D . curved glass
Rear camera resolution: Primary 13 MP & Secondary 5 MP, 2 MP
Flash: Yes
Front camera resolution: 8 MP
Operating System: Android 10 (Android One)
Processor (CPU): Snapdragon 460 8-core
CPU speed: 1.8 GHz
Graphics chip (GPU): Adreno 610
RAM: 4 GB
Internal memory: 64 GB
Remaining memory (available) approx: 49 GB
Mobile network: Support 4G
SIM: 2 Nano SIM
Battery capacity: 4000 mAh
Battery type: Li-Ion
Maximum charging support: 10 W
Charger included with the device: 5 W
Dimensions, weight: Length 160.97 mm – Horizontal 75.99 mm – Thickness 8.7 mm – Weight 180 g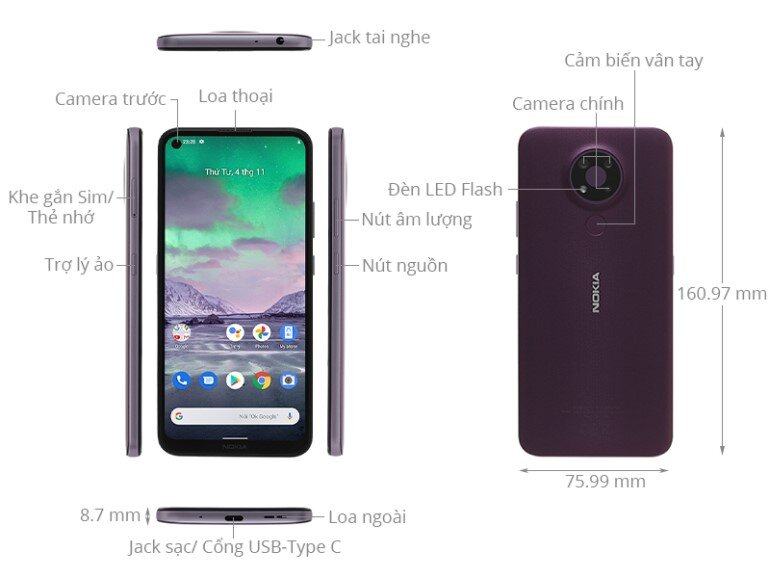 Detailed review of Nokia 3.4 . phone
Review design, screen
Has a pretty good design compared to other smartphones in the same price range. We will have a perforated IPS LCD screen design in the upper left corner of the device instead of a waterdrop screen. The back of the Nokia 3.4 phone is made from embossed plastic, so it looks quite pleasing to the eye, the fingerprint effect is also significantly limited. At the back, the camera cluster of the Nokia 3.4 phone is placed in a circular module that looks very cool. The Nokia 3.4 phone comes in 3 color options including gray, blue and purple.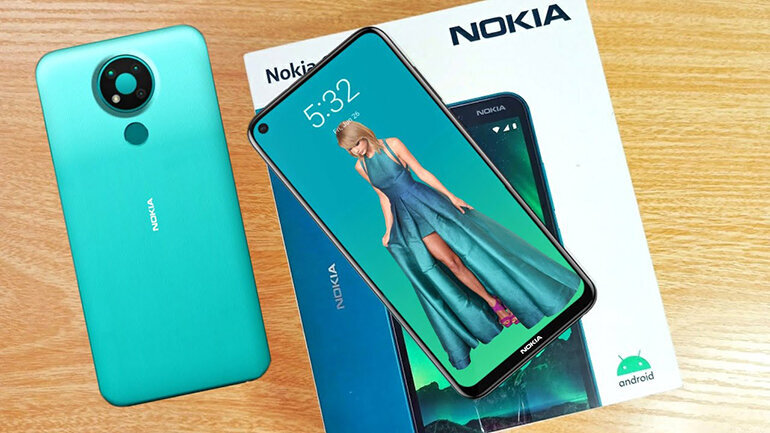 However, in this design, the border still has a difference in width when the bottom border is larger than the other three. It seems that this will be a minus point in the design of the phone . In return, the Nokia 3.4 phone has a screen size of 6.39 inches, a 60 Hz refresh rate for users to experience a sufficient screen, good visibility.
Camera Reviews
3.4 phone , also known as the 8 MP selfie camera, has been integrated with modern AI technology. When you turn on the beauty mode, you will have better photos than normal shots. However, if taken in low light, the image will be quite blurry.
phone has up to 3 rear cameras: a 13 MP main camera, a 5 MP ultra-wide camera and a 2 MP rear camera.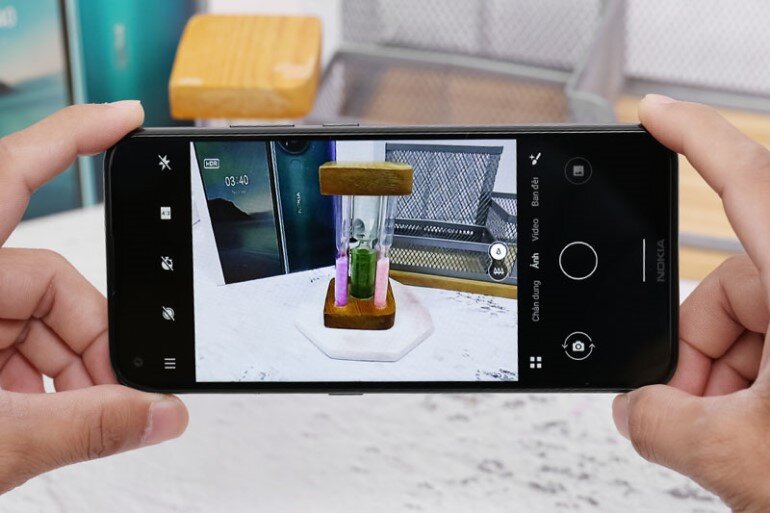 Tested the rear camera of  in many different conditions, but the results were still not satisfactory. The image quality is not really good and after all, the Nokia 3.4 phone camera is just performing at a very basic level, enough to post Facebook for those who want to save everyday moments to make memories.
Battery life
4000mAh battery
Should get you through the day
5w charging
In 2021, the Nokia 3.4's 4000mAh battery will be considered mid-size. For the majority of individuals, it should last all day, or possibly much longer for the kind of person I believe should genuinely think about purchasing this Nokia handset.
By the end of the day, I usually have 15% of the charge remaining. I haven't had to give it a late-afternoon top-up to make sure it lasts, but there isn't enough of a buffer to allow you to charge every other day.
Configuration review
is equipped with a Snapdragon 460 processor with 4GB of RAM, 64GB of ROM, so it basically only works well when users manipulate common tasks like Facebook, make calls, and text messages. If you switch to playing games, especially heavy games like PUBG, Lien Lien Mobile, etc., the response speed will be very slow, then lag continuously.
Battery life rating
has a 4000 mAh battery that is very suitable for the habit of using the phone for basic needs. Then you can use your Nokia 3.4 phone from 1-2 days.
How much is the Nokia 3.4 phone? Should I buy it?
The current selling price of the Nokia 3.4 phone is VND 2,790,000. Less than 3 million but the design is quite good, the battery is good. The only thing is that the performance is only enough for light tasks, the camera does not have many highlights except for having up to three rear cameras.
So, is the Nokia 3.4 phone a good product at the moment? If placed in the 2-3 million phone segment, the Nokia 3.4 phone will be very good for those who want to buy a device to listen to calls, read newspapers, watch Youtube, etc. But if you buy a phone for the purpose of taking more pictures, they We still have many better options.
But, if you use your phone as frequently as I do, I'd definitely suggest spending a bit more money or looking at a company like Xiaomi, which provides a little more value for your money. That is entirely related to the performance concerns with the Nokia 3.4 and has little to do with battery capacity.
The charger for the Nokia 3.4 is likewise subpar. The most basic of these plugs is a 5W plug. Because the process can take many hours, you'll need to recharge over night.