Laptop
Acer Chromebook Spin 513 Review: Long-Lasting And Spacious
Despite having a reputation for being inexpensive, some Chromebooks defy the norm. One such exception is the brand-new Chromebook Spin 513-2H-K627 from Acer. It offers a number of significant improvements over less expensive competitors, such as a razor-sharp screen and excellent battery life, but are these improvements worth the higher price? Let's get started and find out.
Acer Chromebook Spin 512 specs and features
The Acer Chromebook Spin 513-2H-K627 has a MediaTek Kompanio 1380 SoC with Mali-G57 MC5 graphics. This is a recent MediaTek chip announced in January of 2022 that specifically targets Chromebooks. It's paired with 8GB LPDDR4X memory and 128GB of eMMC storage.
CPU: MediaTek Kompanio 1380
Memory: 8GB LPDDR4X
Graphics/GPU: Mali-G57 MC5
Display: 2256 x 1504 IPS touchscreen
Storage: 128GB eMMC
Webcam: 720p
Connectivity: 1x USB-C 3.2 Gen 1 with Power Delivery and DisplayPort Alternate Mode, 1x USB-C 3.2 Gen 1 with Power Delivery, 1x USB-A 3.2 Gen 1, MicroSD card, 3.5mm audio
Networking: Wi-Fi 6, Bluetooth 5.1
Biometrics: None
Battery capacity: 45 watt-hours
Dimensions: 11.81 x 9.25 x .64 inches
Weight: 2.82
Design and build quality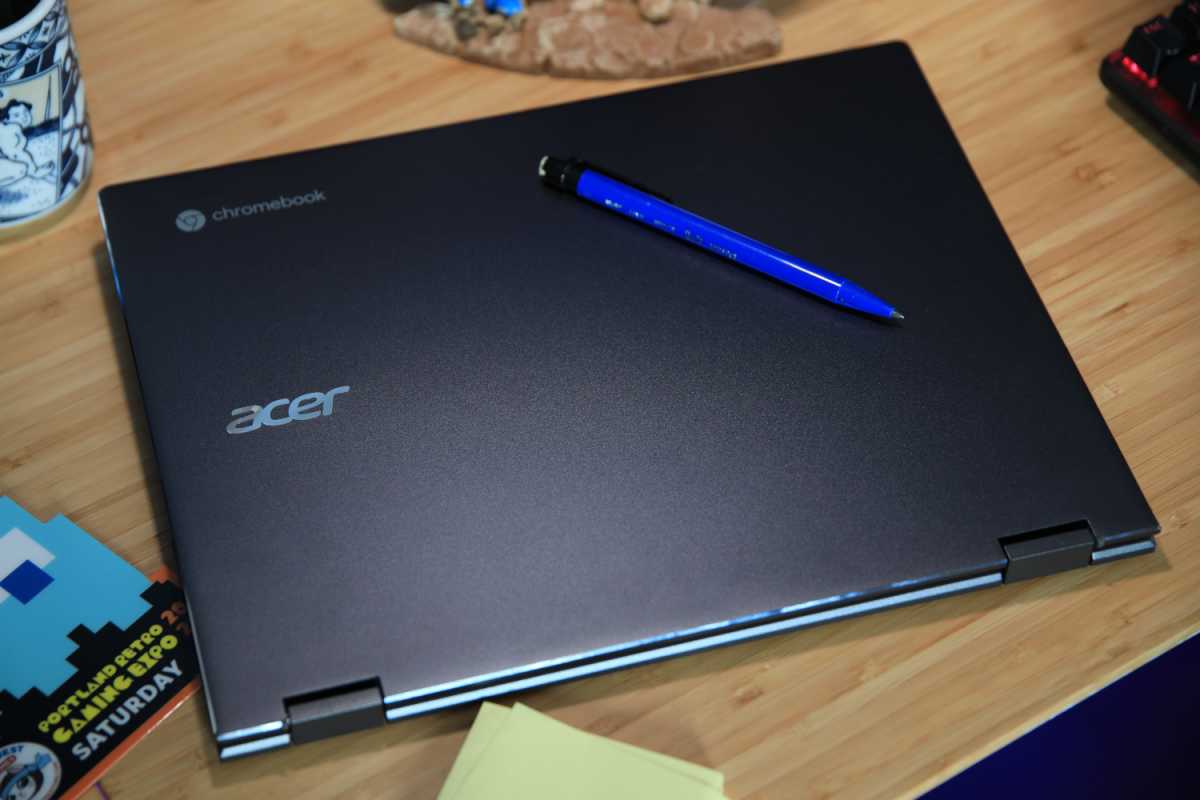 The Chromebook Spin 513 from Acer draws inspiration from the straightforward, practical design of recent Chromebook models. Its look is plain but not ugly, being made of gunmetal with a metal lid and lower chassis.
The interior has a somewhat different color scheme, looking more silver-charcoal. I don't believe the color variation is intentional; rather, I believe it is the result of Acer using various materials. I don't think most owners will notice because the 2-in-1's seams do a decent job of concealing this.
This touchscreen 2-in-1 tablet has a 360-degree hinge. The laptop may be essentially converted into a tablet by rotating the display back until it contacts the "bottom" of the device. Tablet mode is practical for brief periods of time but is not a true substitute for an iPad or Android tablet. The Chromebook Spin 513 measures.64 inches thick and weighs 2.82 pounds. It is a little awkward to handle due to both specs.
Alternately, the display can be partially rotated back, in which case the keyboard serves as the display's stand. This so-called "tent mode," which is excellent for general use in a small area (like a crowded coffee shop or airline), is ideal for streaming Netflix.
I'm not sure if Acer's build quality is up to the task because a 360-degree design places a lot of stress on both the hinges. The plastic-covered hinges appear to be covered in metal on the inside, but the metal display lid feels lovely to the touch but does allow some flex. When typing, the keyboard can also flex a little.
To be fair, I've handled Chromebooks that were far less stunning, but the Chromebook Spin 513 is a pricey model. At this pricing, a metal interior panel or additional display reinforcement would be welcome.
Keyboard and trackpad
The keyboard of the Chromebook Spin 513 will appeal to touch typists. It boasts a spacious layout and huge keys, each of which operates with substantial key travel and some tactile feedback. The bottoming motion is a little hazy, but that's just a minor quibble because the keyboard feels familiar and at ease under my fingertips right away.
The touchpad doesn't perform as well. It offers a respectable amount of space, measuring around 3.5 inches broad and 3 inches deep. The surface is slick and takes input well. Nevertheless, employing multitouch motions on the touchpad causes a number of issues. The scroll never quite ends where it should because it is too sensitive.
The touchscreen can, of course, be used instead of the touchpad, and the 2-in-1 design makes this convenient. Although not superior to rival Windows or ChromeOS 2-in-1s, the touchscreen is sizable, responsive, and smooth.
Display, audio
Perhaps the Acer Chromebook Spin 513's most distinguishing feature is its display quality. It has a 13.5-inch, 2,256 x 1,504 IPS touchscreen with an approximate 200 pixel-per-inch pixel density. Although the resolution is lower than a 4K display, it is still close enough that the viewer won't be able to tell the difference. The text is crisp and clear, and there is no aliasing at the edges of small letters.
Moreover, the display has a 3:2 aspect ratio, which is more similar to a square than the more popular 16:9 or 16:10 aspect ratios. The 13.5-inch screen consequently appears much taller than it actually is. It works particularly well with websites, documents, and spreadsheets due to the abundance of vertical display space. It's not as suitable for streaming because there are frequently big black bars above and below the content.
Maximum brightness is 359 nits, which is respectable. It is sufficient for most indoor uses, but on a sunny day, it may be an issue close to a window. Naturally, the glossy display is a problem because it invites a lot of glare and reflections and makes fingerprints appear more prominently.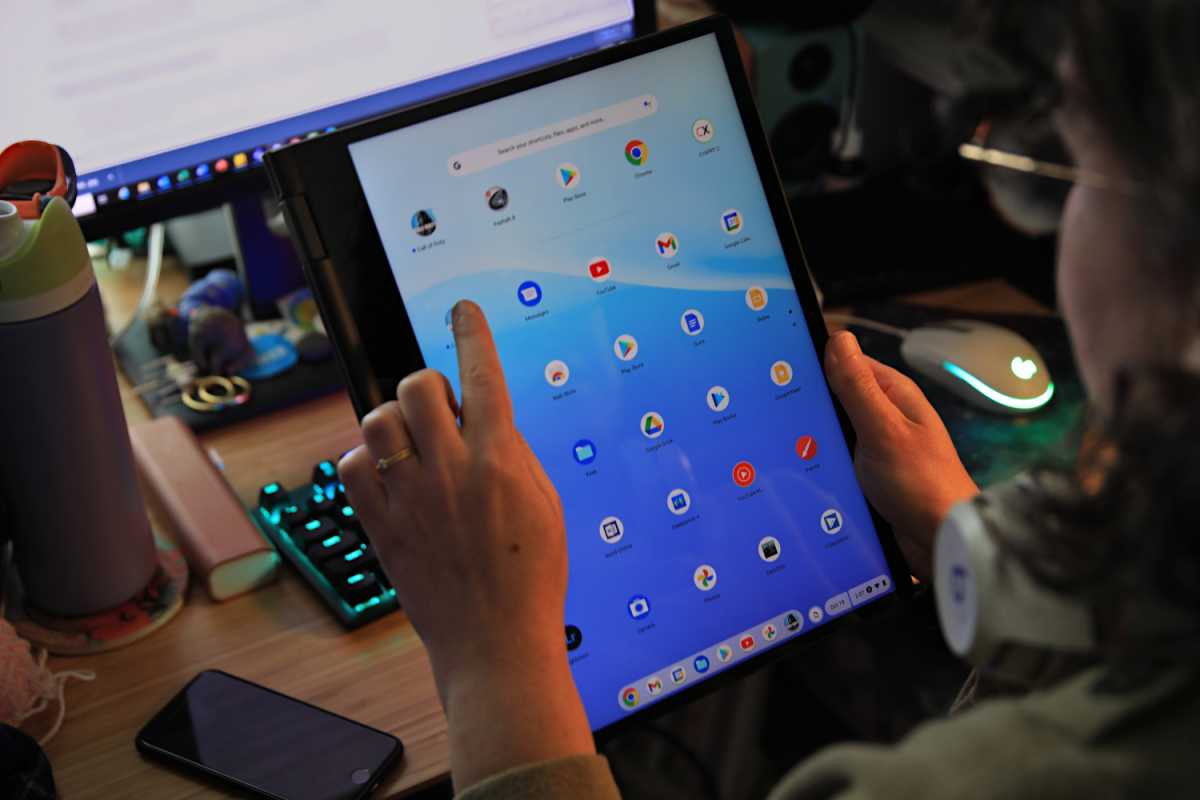 Other than that, image quality is excellent for the money. The Chromebook Spin 513 provides good detail and respectable color performance. Contrast is where it falls short: dark scenes in video games and movies appear fuzzy. The display is still clearer and more vibrant than the majority of comparable gadgets. Acer Spin 5 or Lenovo Yoga 6 are common Windows alternatives with lesser display resolutions. Several displays also have a 16:9 aspect ratio, which is less roomy.
The speakers that are already there are poor. Put it on their volume. Even at maximum volume, the downward-facing speakers are quiet. The audio quality is good, but I would anticipate that at this volume level as there isn't enough power to induce distortion or harshness. The majority of individuals will require external speakers or headphones.
Webcam, microphone, biometrics
The Chromebook Spin 513's slim upper bezel conceals a basic 720p webcam with a microphone. The image quality is faint and grainy, but it still provides a useable image and manages mixed illumination reasonably well. The microphone is similar in that it can be loud enough for a video chat or meeting but has a distant, lifeless presentation.
Battery life
The Chromebook Spin 513 is no different from other ChromeOS devices in that battery life is frequently a benefit. On the CrXPRT 2 battery life benchmark, it was able to produce a battery life of over 12 hours and 34 minutes. On the same benchmark, the Lenovo Chromebook Flex 5's performance persisted for eight hours and 22 minutes.
A Windows laptop from Lenovo with an ARM-based Qualcomm processor, the ThinkPad X13s, has a little longer battery life at 12 hours and 53 minutes (but was tested with video loop, not CrXPRT 2). However, the ThinkPad X13s costs more, with a base MSRP of almost $1,000. Most Windows laptops and 2-in-1s with competitive prices have a battery life of six to eight hours.
In summary, the Chromebook Spin 513 will outperform the majority of laptops with similar price tags and has excellent battery life. In most circumstances, it can last an entire eight-hour workday and can manage a flight across the United States.
Conclusion
The display on Acer's Chromebook Spin 513 is what makes it unique. The unusual 3:2 aspect ratio and excellent quality of the 13.5-inch display combine to create a surprisingly large amount of usable screen area. Chromebooks work best for chores like online browsing and document editing, so it's ideal for them as well.
Yet, there are some negative aspects to the outstanding battery life and pleasurable keyboard that compliment the wonderful display. Poor audio quality, a mediocre trackpad, and unremarkable performance are all present (though game performance is decent).
Despite these issues, the Chromebook Spin 513 is still a solid choice for ChromeOS users who want a large, beautiful touchscreen with plenty of useful space.